Link to this page: https://www.socialistparty.org.uk/issue/491/2500
From The Socialist newspaper, 14 June 2007
Fight attacks on the public sector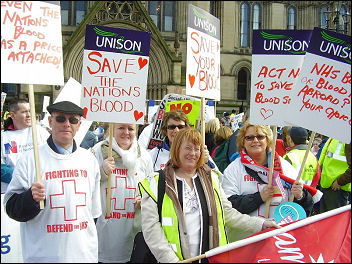 Unsion workers in blood processing on the NHS demonstration March 3rd 2007, photo Paul Mattsson
Wherever you look in the public sector today, workers are under attack. The very concept of public service is being eroded by a Labour government whose first priority is increasing the profits of their big business friends. From city academies, to PFI hospitals and council house sell-offs, there are no barriers to this government's rush towards privatisation.
Marc Glasscoe, branch secretary, Lincoln City UNISON, personal capacity
Next week the largest public-sector trade union, UNISON holds its 14th national delegate conference. As delegates prepare to discuss motions opposing NHS cuts and calling for a fairer wage for public-sector workers there is a clear sense that we have been here before.
Only two years ago UNISON delegates came together, seething at the government's plans for public-sector pensions. This anger was later transformed into the biggest single day of public-sector strike action since the 1926 general strike.
Only weeks after the leadership of the union announced their backing for Gordon Brown as the next prime minister, UNISON delegates will be heading to Brighton with this government's offensively small 2% pay offer hanging over them.
On the same day that the leadership announced their support for Brown as an election-winner (apparently their first priority, over the terms and conditions of their members), general secretary Dave Prentis was calling for the government to pay up for health workers to "avert the growing reality of industrial action in the NHS."
How can the union possibly campaign for better pay for its members while giving political support to the very man responsible for cutting it?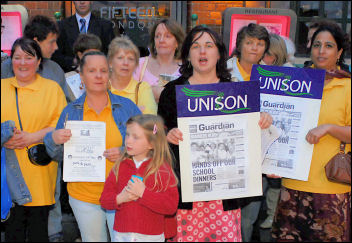 Waltham Forest Unison members outside Jamie Oliver's restaurant, protest at cuts to school meals, photo Paul Mattsson/
Earlier this year The Times revealed that in 1997 Gordon Brown started the ball rolling on ending workers' final salary pension schemes.
In 2004 he announced 100,000 civil service job cuts. And now it is Gordon Brown who is offering a pitiful, below-inflation pay deal to public-sector workers. This is the man that Dave Prentis and the rest of the UNISON leadership expect us to support as prime minister.
But UNISON members are not the only ones who are being done over by this government. The PCS public service union recently took strike action on 1 May to oppose job cuts, low pay and privatisation. The National Union of Teachers has agreed to ballot on whether to take action on an equally insulting pay offer. It is this willingness to fight that will make a difference in the coming battle over pay in the public sector.
When UNISON delegates attend conference this week they will be carrying with them the responsibility of making sure that they stand up for their members and fight for their interests. They need to push for a fighting union that will represent their interests and those of their members; a union prepared to take decisive action against a government hell-bent on attacking public-sector workers.
---
>
Socialist Party UNISON conference meeting
Tuesday 19 June, 7.30pm. The Brighton Hotel, 143-145 Kings Road (sea front), Brighton.
Speaker: Socialist Party councillor Dave Nellist
Why not click here to join the Socialist Party, or click here to donate to the Socialist Party.
---
In The Socialist 14 June 2007:

Fight for a living wage

No to attacks on pay and conditions: leaflet

Come to the National Shop Stewards Network Founding Conference

Founding Conference of the National Shop Stewards Network

Stoke: Anger at postal privatisation
---
Unison national conference

Fight attacks on the public sector

Members' discontent strengthens left in UNISON elections

Campaign For A New Workers' Party public meeting

Swansea workers fight privatisation

Merger with GMB?
---
What we think

United public sector struggle needed
---
Socialist Party NHS campaign

Fresh wave of protest in NHS

Labour climbs down in Wales - but for how long?

Coventry - Anger at NHS redundancy threat

Durham hospitals jobs threat

Prescription for profit

Stem cell potential to break medicine bottleneck
---
War and terrorism

Stop The War Coalition - demonstration

Anti-Bush day in Italy - A tale of two protests
---
G8 Summit protests

What did the G8 summit achieve?

G8 protests: Determination wins through
---
International socialist news and analysis

Boycotts of Israel: Will they help the Palestinians?

Western hypocrisy over 'democracy' utilised by Putin
---
Socialist Party news and analysis

Oil, profits, sleaze and hypocrisy

How Mittal makes millions

Bosses' bonuses

Amicus conference: Unite and New Labour
---
Home | The Socialist 14 June 2007 | Join the Socialist Party
---