Link to this page: https://www.socialistparty.org.uk/issue/942/25143
From The Socialist newspaper, 29 March 2017
Leeds Labour councillors resign over cuts
For a workers' movement conference on fighting austerity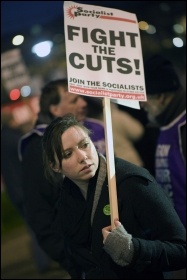 Fight the cuts! Protesting against cuts in services outside Waltham Forest council, photo Paul Mattsson, photo Paul Mattsson (Click to enlarge)
Iain Dalton, Leeds Socialist Party
As Leeds Labour Council geared up to pass its latest budget cuts of £75.3 million, the cracks that had been appearing in the Labour group over the last few months finally resulted in a split.
First Mark Dobson and Sarah Field, and then on budget day itself Janette Walker, resigned from the Labour group to become independents.
In the back half of 2016, there had been a mini-revolt in the Labour group over the closure of 'The Green', a specialist dementia care home in east Leeds. This resulted in Leeds East Constituency Labour Party passing a motion in favour of a conference to discuss alternatives to local austerity measures.
At the same time, the council was planning on giving £4 million to Yorkshire County Cricket Club.
This revolt, undoubtedly influenced by the anti-austerity mood of the thousands who rallied in defence of Jeremy Corbyn in Leeds over the summer, led to a group of councillors 'calling in' the decision to close The Green, and a temporary climbdown by the Labour group leadership.
Dobson had been the council's executive member for environment in the past, presiding over the construction of the polluting east Leeds incinerator. But since returning to the council back benches last year, he has publicly declared support for Corbyn, speaking at rallies over the summer.
As the Socialist Party has commented, as austerity continues more Labour councillors will break under the stress.
Labour left
Momentum and others on the Labour left nationally have not taken this issue seriously. Unfortunately, this continues to include Corbyn and John McDonnell, who have gone along with the position of the right that nothing can be done.
This is why a wider struggle hasn't erupted inside the Labour group. Instead, councillors who wish to challenge the cuts have been left isolated.
Dobson and Field forming an independent group on the council did mean the ability to put their own amendments into the budget. One amendment reversed increased bulk waste collection charges by cutting the council's advertising budget.
Due to the resignations coming close to the budget meeting there was limited time to submit amendments. But a serious challenge to local cuts in next year's budget would need to be much more comprehensive.
There are growing calls for a conference of the workers' movement to discuss how the cuts can be fought, drawing on strikes by local government workers in Glasgow and elsewhere.
This should be linked to drawing up an alternative no-cuts budget to buy time to build a mass campaign to win the money, and calling on those councillors opposed to austerity to put it forward in the council chamber.
The Trade Unionist and Socialist Coalition in Leeds has written to the three councillors to offer to discuss a common approach in challenging austerity measures locally and nationally, as we have offered any councillors in the Labour group who want to fight austerity.
Why not click here to join the Socialist Party, or click here to donate to the Socialist Party.
---
In The Socialist 29 March 2017:
---
What we think

Unite against terror, racism and war
---
Socialist Party news and analysis

NHS: protest, strike, occupy to win!

No to racist scapegoating: oppose the far right

Top banks post 67% of profits in tax havens - nationalise the banks!

Prescription and dental charges to rise again - fight for a free NHS!

Homelessness agencies accused of being complicit in coercive deportations

Leeds Labour councillors resign over cuts

Times makes call for Tory entryism

Martin McGuinness: from IRA leader to Stormont minister
---
Russian revolution 1917-2017

April 1917: how the Bolsheviks reorientated
---
Workplace news and analysis

Doncaster: snap strike by posties pushes bully bosses back

Over a thousand march with Durham TAs against 23% pay cut

Join the 31 March PCS pay protest

Bridgend Ford overtime stoppage in sourcing dispute

Forest Hill school in Lewisham fights back

Dispute against backdoor privatisation of mental health services

Ballot papers go out in Unite elections

Fujitsu strikes: Manchester and Warrington

Deliveroo victory in Leeds

TUSC backs RMT struggle against Merseyrail
---
Socialist readers' comments and reviews

Universal Credit is making the housing crisis worse

Save Cardiff's live music venues

Women need secure jobs and equal pay, not patronising 'returnships'

Why I Joined: "I joined Socialist Party to campaign to save the NHS"

The Socialist Inbox
---
International socialist news and analysis

South Africa: Unity against poverty, crime and xenophobia

Belarus: movement developing against regime
---
Socialist Party reports and campaigns

Jobstown Not Guilty: defend the right to protest

Angry march against Bradford council-approved incinerator

GMB union should support anti-fracking campaigners in Fylde

"Save our Nurseries", Tower Hamlets campaigners tell the council

South Yorkshire Freedom Riders celebrate three years of fighting

Memorial meeting remembers Bernard Roome

Save Plymouth's libraries!

May Day greetings in the Socialist
---
Home | The Socialist 29 March 2017 | Join the Socialist Party
Subscribe | Donate | Audio | PDF | ebook
---