Link to this page: https://www.socialistparty.org.uk/issue/942/25151
From The Socialist newspaper, 29 March 2017
Save Plymouth's libraries!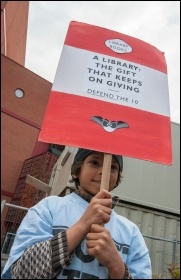 Marching against library, gallery and museum closures, 5.11.16, photo Paul Mattsson (Click to enlarge)
Ryan Aldred, Plymouth Socialist Party
To show our opposition to the planned closure of ten of Plymouth's 17 libraries, Socialist Party members will join community campaigners and concerned members of the public in attending the last in a series of consultation meetings on 5 April.
The plan by the Tory-Ukip coalition outlines the need to invest in more digital services to make the library services more accessible. We certainly wouldn't disagree with the need to invest in these services but they should not come at the cost of public service jobs and spaces which are used by residents and community groups.
Since these library consultation meetings began there has been a wave of opposition and protest. Local residents have expressed their anger at drop-in sessions, and Peverell library, one of the ten marked for closure, has been flooded with a mass 'read-in' of over 200 people.
In a previous consultation meeting, Conservative councillor Glenn Jordan said: "It is not about money, bricks and mortar." When grilled he had no answer for how shedding jobs and closing spaces used by all manner of community groups is meant to be a good thing for Plymouth residents. If money isn't an issue then keep the libraries open!
Why not click here to join the Socialist Party, or click here to donate to the Socialist Party.
---
In The Socialist 29 March 2017:
---
What we think

Unite against terror, racism and war
---
Socialist Party news and analysis

NHS: protest, strike, occupy to win!

No to racist scapegoating: oppose the far right

Top banks post 67% of profits in tax havens - nationalise the banks!

Prescription and dental charges to rise again - fight for a free NHS!

Homelessness agencies accused of being complicit in coercive deportations

Leeds Labour councillors resign over cuts

Times makes call for Tory entryism

Martin McGuinness: from IRA leader to Stormont minister
---
Russian revolution 1917-2017

April 1917: how the Bolsheviks reorientated
---
Workplace news and analysis

Doncaster: snap strike by posties pushes bully bosses back

Over a thousand march with Durham TAs against 23% pay cut

Join the 31 March PCS pay protest

Bridgend Ford overtime stoppage in sourcing dispute

Forest Hill school in Lewisham fights back

Dispute against backdoor privatisation of mental health services

Ballot papers go out in Unite elections

Fujitsu strikes: Manchester and Warrington

Deliveroo victory in Leeds

TUSC backs RMT struggle against Merseyrail
---
Socialist readers' comments and reviews

Universal Credit is making the housing crisis worse

Save Cardiff's live music venues

Women need secure jobs and equal pay, not patronising 'returnships'

Why I Joined: "I joined Socialist Party to campaign to save the NHS"

The Socialist Inbox
---
International socialist news and analysis

South Africa: Unity against poverty, crime and xenophobia

Belarus: movement developing against regime
---
Socialist Party reports and campaigns

Jobstown Not Guilty: defend the right to protest

Angry march against Bradford council-approved incinerator

GMB union should support anti-fracking campaigners in Fylde

"Save our Nurseries", Tower Hamlets campaigners tell the council

South Yorkshire Freedom Riders celebrate three years of fighting

Memorial meeting remembers Bernard Roome

Save Plymouth's libraries!

May Day greetings in the Socialist
---
Home | The Socialist 29 March 2017 | Join the Socialist Party
Subscribe | Donate | Audio | PDF | ebook
---