Link to this page: https://www.socialistparty.org.uk/issue/947/25368
From The Socialist newspaper, 3 May 2017
PCS elections - vote Democracy Alliance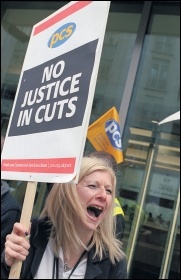 Members of public sector union PCS fighting cuts in the justice sector, photo Paul Mattsson (Click to enlarge)
Marion Lloyd, PCS Left Unity chair (personal capacity)
There is just over a week to go before the PCS national executive committee ballot closes on 11 May (and group elections on 16 May). This deadline takes no account of postal delivery so activists have just a couple of days to maximise the Democracy Alliance vote.
Branches who nominated should remind members to vote and to vote for the branch-agreed Democracy Alliance slate
Branches which have branch executive committee recommendations for the Democracy Alliance slate should also issue a reminder to vote and recommend the slate
Wherever possible, branch executive committee members and local reps should do a sweep of the offices to remind members to vote and recommend the Democracy Alliance slate
With the announcement of a general election, it is vital we secure a victory for the Democracy Alliance.
If Jeremy Corbyn wins we need a leadership which will be uncompromising in demanding Labour carries out its anti-austerity programme and public sector pledges. If Theresa May wins we will need a union leadership committed to fighting the Tories' austerity programme and defending our members.
Donate to the Socialist Party
Finance appeal
The coronavirus crisis has laid bare the class character of society in numerous ways. It is making clear to many that it is the working class that keeps society running, not the CEOs of major corporations.
The results of austerity have been graphically demonstrated as public services strain to cope with the crisis.
The government has now ripped up its 'austerity' mantra and turned to policies that not long ago were denounced as socialist. But after the corona crisis, it will try to make the working class pay for it, by trying to claw back what has been given.
The Socialist Party's material is more vital than ever, so we can continue to report from workers who are fighting for better health and safety measures, against layoffs, for adequate staffing levels, etc.
When the health crisis subsides, we must be ready for the stormy events ahead and the need to arm workers' movements with a socialist programme - one which puts the health and needs of humanity before the profits of a few.
Inevitably, during the crisis we have not been able to sell the Socialist and raise funds in the ways we normally would.
We therefore urgently appeal to all our viewers to donate to our Fighting Fund.
---
In The Socialist 3 May 2017:
---
What we think

Race against time for May as Corbyn sets out anti-austerity case
---
Socialist Party news and analysis

Jeremy Corbyn's workers' charter

Corbyn pledges a million homes and landlord regulation

McDonnell promises reversal of Tories' tax cuts for the super-rich

Corbyn pledges end to uni fees and school cuts

Corbyn government would lift NHS pay cap

Support for socialist programme in Labour Liverpool rally
---
Social care in crisis

Beyond the crisis point: saving social care
---
International socialist news and analysis

Packed court laughs down cutter Joan Burton's comparison to Marxist James Connolly

Trump's policies hit a wall
---
Socialist Students

NUS leadership: Blairites supported by establishment
---
Workplace news and analysis

Unison health conference: fury over leadership's feet dragging

Union leadership and Labour right challenged at shop workers' conference

McDonald's forced to back down on zero-hours

PCS elections - vote Democracy Alliance

Transport union protests against driver-only operation outside parliament
---
Socialist readers' comments and reviews

Rare opportunity to see Russian revolution lifted off the page
---
Trade Unionist and Socialist Coalition

Mersey metro-mayor TV debate

'Socialist Steve' takes on the robots

TUSC's south Wales challenge to pro-cuts parties
---
Socialist Party reports and campaigns

Buy your ticket now for the political event of the year: Socialism 2017

Housing association workers' and tenants' alternative awards ceremony

Sheffield mental health campaigner: "austerity kills"
---
Home | The Socialist 3 May 2017 | Join the Socialist Party
Subscribe | Donate | Audio | PDF | ebook
---