Link to this page: https://www.socialistparty.org.uk/issue/947/25373
From The Socialist newspaper, 3 May 2017
Sheffield mental health campaigner: "austerity kills"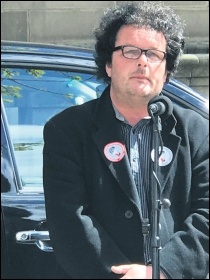 Mental health campaigner and Socialist Party member Tim Jones, photo by Nigel Newton-Smith (Click to enlarge)
Socialist Party member Tim Jones spoke at Sheffield Trades Council's International Workers Memorial Day commemoration on 29 April on behalf of Mental Health Action Group Sheffield (MHAGS).
"Austerity kills," said Tim. "A month ago I was in a car coming back from trade union leafleting when I saw a man's body hit the road on Park Square roundabout after he had thrown himself off the bridge.
"A week later, Ali Hassan died of his injuries. He was suffering from mental health illness and had been admitted to hospital the night before but discharged in the morning. If the hospital had more beds, more staff and more resources, then maybe Ali would have been kept in, received treatment and never attempted suicide.
"25 years ago I set up MHAGS - which runs a user-led day centre for people with mental health issues.
"The biggest cause of mental health issues today is work-related stress, anxiety and depression. Last year, a TUC study found a worker in Britain is made ill through stress at work every two minutes!
"The Health and Safety Executive reported nearly 500,000 cases of work-related stress last year - accounting for 45% of all working days lost due to ill health.
"Women are more affected than men and stress-related illness is greatest among nurses and midwives, teachers and welfare professionals such as care workers and social workers.
"These are precisely the sections of workers who have been most affected by austerity cuts.
"What should the trade unions do about this? Well a few weeks ago, 250 posties walked out on unofficial strike in Doncaster against bullying management after one of their colleagues who was off sick with stress was sacked. Their strike forced management to climb down, review procedures and move the offending manager out of the depot.
"Mental health affects individuals but the causes of workplace stress, anxiety and depression, demand a collective response from our trade unions. The fight against bullying managers, against increased workloads, against austerity, and against the Tories is the fight for better mental health."
Why not click here to join the Socialist Party, or click here to donate to the Socialist Party.
---
In The Socialist 3 May 2017:
---
What we think

Race against time for May as Corbyn sets out anti-austerity case
---
Socialist Party news and analysis

Jeremy Corbyn's workers' charter

Corbyn pledges a million homes and landlord regulation

McDonnell promises reversal of Tories' tax cuts for the super-rich

Corbyn pledges end to uni fees and school cuts

Corbyn government would lift NHS pay cap

Support for socialist programme in Labour Liverpool rally
---
Social care in crisis

Beyond the crisis point: saving social care
---
International socialist news and analysis

Packed court laughs down cutter Joan Burton's comparison to Marxist James Connolly

Trump's policies hit a wall
---
Socialist Students

NUS leadership: Blairites supported by establishment
---
Workplace news and analysis

Unison health conference: fury over leadership's feet dragging

Union leadership and Labour right challenged at shop workers' conference

McDonald's forced to back down on zero-hours

PCS elections - vote Democracy Alliance

Transport union protests against driver-only operation outside parliament
---
Socialist readers' comments and reviews

Rare opportunity to see Russian revolution lifted off the page
---
Trade Unionist and Socialist Coalition

Mersey metro-mayor TV debate

'Socialist Steve' takes on the robots

TUSC's south Wales challenge to pro-cuts parties
---
Socialist Party reports and campaigns

Buy your ticket now for the political event of the year: Socialism 2017

Housing association workers' and tenants' alternative awards ceremony

Sheffield mental health campaigner: "austerity kills"
---
Home | The Socialist 3 May 2017 | Join the Socialist Party
Subscribe | Donate | Audio | PDF | ebook
---