Link to this page: https://www.socialistparty.org.uk/issue/954/25728
From The Socialist newspaper, 28 June 2017
From Militant to the Socialist Party - what you thought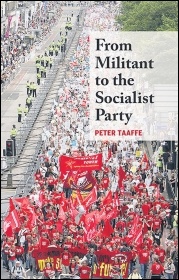 'From Militant to the Socialist Party' by Peter Taaffe, photo (Sarah Sachs-Eldridge) (Click to enlarge)
"Well I have finished it! I have completed reading the marvellous book From Militant to the Socialist Party. What an absolutely brilliant read, remembering some of the events I was involved in.
"From Militant to the Socialist Party is a lesson on building a Marxist socialist organisation on the one hand and continuing to raise the ideas of socialism in the wider working class movement on the other. I recommend all Corbynistas read this biography of a socialist tendency that has developed a powerful base in the British workers' movement over the past 53 years.
"Also read the first volume in this trilogy, called The Rise of Militant, to understand that the building of socialist ideas cannot be relied on enthusiasm alone, but needs concrete socialist policies and organisation to defeat British, European and world capitalism."
Jimmy Haddow
"I have just finished reading Peter Taaffe's brilliant and stimulating book From Militant to the Socialist Party. At times, I was deeply moved, as Peter carefully and lucidly took me through his fascinating and knowledgeable experiences.
As a new member of the Socialist Party, many of my questions were answered and the book confirmed my feelings of despair and disillusionment with New Labour and its politicians.
I was very happy to have my decision to join the Socialist Party confirmed. I recommend that all new members of the Socialist Party read this book.
The style, print and short chapters all helped me to read and understand very clearly the political beliefs and progress of the Socialist Party in relation other political parties and international socialism. My hope for a brighter future is restored."
Mary Rodwell
Why not click here to join the Socialist Party, or click here to donate to the Socialist Party.
---
In The Socialist 28 June 2017:
---
What we think

Step up the fight to kick out Tories and Blairites
---
Grenfell Tower

After Grenfell - fight for safe homes

Camden evacuation - residents expose risks - Blairites duck responsibility

Grenfell fire compounded by overcrowding: build more council homes now

Reports: organising to fight for safe homes after Grenfell

Council union responds to Grenfell
---
Socialist Party news and analysis

Police accused of killing cover-up

NHS secret cuts plans exposed

Barclays finally charged for having hands in till

Students 'skirt' school uniform issue!

Homelessness - Corbyn offers housing revolution

Benefit cap defeat for government

Tories may have broken election laws... again

What We Saw
---
Socialist history

Liverpool's 1983-87 socialist council
---
International socialist news and analysis

Trump and the fossil fuel corporations - a lethal combination for the planet

Jobstown Not Guilty - verdict imminent
---
Workplace news and analysis

Trade unions must organise to kick out the Tories

Unison conference: confident delegates take control, give Corbyn 'rapturous' welcome

Refuse workers strike against bullying bosses

"What do we want? Pay parity.
---
Socialist Party reports and campaigns

Organise the 'youthquake'! Young Socialists - Generation Socialist

Cardiff: unity in solidarity with Grenfell

Corbyn inspires thousands at Glastonbury

To join the struggle to save the NHS

From Militant to the Socialist Party - what you thought

Pentrich Rebellion 200 years on
---
Home | The Socialist 28 June 2017 | Join the Socialist Party
Subscribe | Donate | Audio | PDF | ebook
---