Link to this page: https://www.socialistparty.org.uk/issue/955/25796
From The Socialist newspaper, 5 July 2017
Unison conference: Socialist Party argues for a socialist Brexit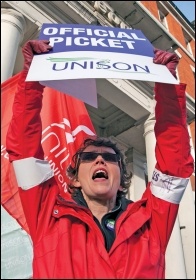 Striking unions include Unison, Unite, GMB and the Royal College of Midwives, photo Paul Mattsson (Click to enlarge)
Mia Hollsing, Unison conference delegate (personal capacity)
One of the important debates at the 2017 Unison conference was about Brexit. One year on from the referendum, there were a number of motions and amendments about what form Brexit should take and what role the union should play.
The Unison leadership was forced to acknowledge that the Leave vote was not purely about immigration, but in large part a vote against the establishment and austerity. Socialist Party members played an important role in this debate. There was also a debate about the single market, as the leadership backs continued membership.
I argued against this, explaining that the single market is a neo-liberal free trade area based on the so-called 'four freedoms' - freedom of movement of people, goods, services and capital.
Race to the bottom
I am an EU citizen and I respect the right of people to live and work where they choose, but I explained employers must not be allowed to use migrant labour as a way to drive down terms and conditions (as has happened under EU rules, and this would continue if we remain in the single market).
I also explained that freedom of movement of capital is what allows employers to move production abroad to increase their profits and that the rules around freedom of movement for goods and services forbid nationalisation of services.
I pointed out that Corbyn's programme for nationalisation of the railways, Royal Mail and energy companies would therefore be illegal under single market membership, and that we would also be unable to save the steel industry by nationalising plants such as Port Talbot in Wales.
What we need is not a 'soft' Brexit or a 'hard' Brexit, but a socialist Brexit and this means leaving the single market. These arguments were well received by conference, winning the debate. However, unhappy at the vote, the president took it another two times until they got vote they wanted.
Donate to the Socialist Party
Coronavirus crisis - Finance appeal
The coronavirus crisis has laid bare the class character of society in numerous ways. It is making clear to many that it is the working class that keeps society running, not the CEOs of major corporations.
The results of austerity have been graphically demonstrated as public services strain to cope with the crisis.
The government has now ripped up its 'austerity' mantra and turned to policies that not long ago were denounced as socialist. But after the corona crisis, it will try to make the working class pay for it, by trying to claw back what has been given.
The Socialist Party's material is more vital than ever, so we can continue to report from workers who are fighting for better health and safety measures, against layoffs, for adequate staffing levels, etc.
Our 'fighting coronavirus workers' charter', outlines a programme to combat the virus and protect workers' living conditions.
When the health crisis subsides, we must be ready for the stormy events ahead and the need to arm workers' movements with a socialist programme - one which puts the health and needs of humanity before the profits of a few.
Inevitably, during the crisis we have not been able to sell the Socialist and raise funds in the ways we normally would.
We therefore urgently appeal to all our viewers to donate to our special coronavirus appeal.
---
In The Socialist 5 July 2017:
---
Socialist Party news and analysis

Public sector wages - Pay up!

Jobstown victory: protest is not a crime!

Blairite EU rebellion: no to the bosses' Single Market

Fight establishment's Grenfell insults: no to cover-up, safety for all!

Hillsborough: six charged due to determination of justice campaign

Tories' tuition fees wobble: fight for free education!
---
Readers' comments and reviews

200-year miscarriage of justice exposing ruling class

Transport strategy: London's mayor is no visionary

The Socialist inbox
---
What we think

1 July demo: anger and enthusiasm shows potential mass movement
---
Socialist Party workplace news

'Jubilant' hospital workers strike against poverty pay in east London

Support the Merseyrail strikes against DOO

RMT conference opens debate on Labour and pledges to fight anti-union laws

Bin workers' anger boils over into strike action

Unison conference: Socialist Party argues for a socialist Brexit

Surrey FBU pass no confidence motion

BA cabin crew blacklisting strike starts

Leeds: Nurses' union RCN says 'scrap the cap'
---
Pride 2017

Pride 2017: we need a fighting, socialist movement for LGBT+ rights

Lessons from the Russian revolution for LGBT+ struggle today
---
NI abortion u-turn

Weakened Tories forced into Northern Ireland abortion u-turn
---
Housing

Haringey: stop demolition of homes and communities

South London tower block residents plan safety campaign

Newcastle tenants demand answers
---
Socialist Party reports and campaigns

East London community demands action after racist attacks

Another record fighting fund quarter!

From Militant to the Socialist Party - what you thought

Pensioners oppose DUP deal
---
Home | The Socialist 5 July 2017 | Join the Socialist Party
Subscribe | Donate | Audio | PDF | ebook
---