Link to this page: https://www.socialistparty.org.uk/issue/958/25960
From The Socialist newspaper, 9 August 2017
Postie paper sale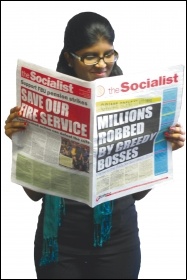 The Socialist carries the best news, analysis and strategy the workers' movement has to offer, photo Socialist Party (Click to enlarge)
Colin John, a new member and retired trade union convenor, turns up regularly on our Saturday campaign stall in Swansea despite his mobility problems. He has also started taking five copies of the Socialist to sell to family and friends during the week.
He recently told us that the postie delivering his Socialist remarked: "That looks interesting, I wouldn't mind having a look after you've finished with it". Colin responded: "Hang on a second, give me a pound and you can have a copy now". "No problem" said the postie and off he went with a copy of the Socialist.
Knowing Colin, his postie better prepare himself for a regular paper and a lot more discussion!
Alec Thraves
Donate to the Socialist Party
Coronavirus crisis - Finance appeal
The coronavirus crisis has laid bare the class character of society in numerous ways. It is making clear to many that it is the working class that keeps society running, not the CEOs of major corporations.
The results of austerity have been graphically demonstrated as public services strain to cope with the crisis.
The government has now ripped up its 'austerity' mantra and turned to policies that not long ago were denounced as socialist. But after the corona crisis, it will try to make the working class pay for it, by trying to claw back what has been given.
The Socialist Party's material is more vital than ever, so we can continue to report from workers who are fighting for better health and safety measures, against layoffs, for adequate staffing levels, etc.
Our 'fighting coronavirus workers' charter', outlines a programme to combat the virus and protect workers' living conditions.
When the health crisis subsides, we must be ready for the stormy events ahead and the need to arm workers' movements with a socialist programme - one which puts the health and needs of humanity before the profits of a few.
Inevitably, during the crisis we have not been able to sell the Socialist and raise funds in the ways we normally would.
We therefore urgently appeal to all our viewers to donate to our special coronavirus appeal.
---
In The Socialist 9 August 2017:
---
What we think

Venezuela shows battle Corbyn would face
---
Socialist Party news and analysis

Striking back against poverty pay

Rashan Charles death: End police racism and austerity

Coventry: march following racist police killing

Government's tribunal fees defeat

40% of England's psychiatric wards are 'unsafe'
---
Marx's Capital at 150

Marx's Capital at 150: an unequalled analysis
---
Socialist Party workplace news

Angry Birmingham bin workers enter fifth week of strike action

Barts strike: Keep up the pressure on Serco and the trust!

Steel workers at Rom Ltd strike for a pay rise

Coordinated action needed to break pay restraint

End poverty pay for sleep-in care workers

RMT condemns Welsh government rail privatisation
---
Socialist Party reports and campaigns

Young, angry and fighting back

Young Socialists off to a flying start in Cardiff

Campaign fights closure of Chatsworth rehab ward

Support for Socialist Party campaigns at biggest ever Leeds Pride

Northern Pride's a success

Housing safety campaign kicks off in Coventry

Far-right thrown out of Newcastle

Postie paper sale
---
International socialist news and analysis

Venezuela: Capitalist offensive sharpens after assembly elections

Workers' struggles in Peru: eyewitness report
---
Trade Unionist and Socialist Coalition

How much reserves have councils got?
---
Global finance

Global finance: Are those storm clouds ahead?
---
Music review

Crunchy guitar and poignant dialogue in alt-rock homage to south Wales miners
---
Home | The Socialist 9 August 2017 | Join the Socialist Party
Subscribe | Donate | Audio | PDF | ebook
---