Link to this page: https://www.socialistparty.org.uk/articles/25989
Posted on 17 August 2017 at 10:08 GMT
Vital Derby women's services under threat - campaign calls on council to step in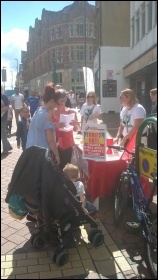 Derby Socialist Party campaign stall in support of Derby Women's Centre 12 August 2017 photo Derby SP (Click to enlarge)
Save Derby Women's Centre campaign
Derby Women's Centre has existed since 1978 and has been supporting women throughout Derby and Derbyshire who are at the most vulnerable point in their lives. The main aim of the centre is to reduce the devastating impact of mental health issues and domestic violence but it offers many other vital services.
The centre has survived with funding through charitable grants, donations and fundraising efforts. Last May the centre's most substantial grant came to an end and the centre is now under threat. The Labour-led council was approached for a loan but refused to help.
The centre is currently supporting approximately 60 women and three men through counselling, with a further 60 on the waiting list. On average the centre takes five referrals a week. It has now suspended any further referrals as a result of funding issues. This will have a devastating impact on the most vulnerable and at-risk women in the community. In addition to those seeking counselling, the centre supports an average of 50 women through other services.
"How they have changed my life is beyond measure. The reason I feel so passionately about them is not only what they have done for me, but how I have seen women turn their lives around and come back to life, discovering their confidence and self-esteem again". These are the words of one of the women using the centre. Many other users have said that the centre saves lives.
Women using the centre have set up a campaign to win the funding to continue to fully fund all the services currently provided. Derby Socialist Party was approached and asked for support in the campaign and have discussed several ideas to this end.
Derby Labour council has millions in reserves. These may also be used on a short-term temporary basis for other purposes provided the funding is replaced in future years. Derby Women's Centre needs £80,000 annually. The money is there for these vital service to ensure the life changing and lifesaving work that Derby Women's Centre offers is fully funded.
---
This version of this article was first posted on the Socialist Party website on 17 August 2017 and may vary slightly from the version subsequently printed in The Socialist.
Why not click here to join the Socialist Party, or click here to donate to the Socialist Party.
---