Link to this page: https://www.socialistparty.org.uk/issue/495/2613
From The Socialist newspaper, 12 July 2007
Bob Crow calls for new party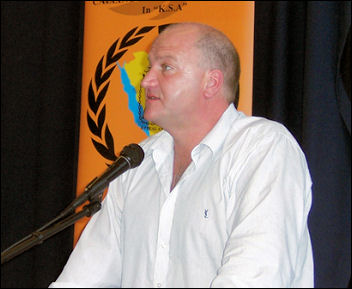 Bob Crow, RMT general secretary, addresses the National Shop Stewards Network conference July 2007
A successful founding conference of the National Shop Stewards Network took place on Saturday 7 July with nearly 300 shop stewards and workplace representatives attending. Delegates from all over the country were inspired during the course of the day by the mood of unity and determination to build the network.
The conference was addressed and supported by the president of the Public and Commercial Services union (PCS) Janice Godrich, the general secretaries of the PCS and RMT (rail) unions, Mark Serwotka and Bob Crow, as well as a number of trade union national executive members.
Delegates and observers particularly welcomed a closing speech by Bob Crow in which he argued strongly that not only does the network need to be built, but that an "alternative political party" to the present three main parties is also needed. He raised the possibility of the RMT initiating "a little political party" to contest the next London mayoral and assembly elections and said that this could be a step towards a new workers' party in a few years' time.
Why not click here to join the Socialist Party, or click here to donate to the Socialist Party.
---
In The Socialist 12 July 2007:

Fighting low pay, defending jobs and services

Victory to the postal workers

Public support for Post Office counters strike
---
National Shop Stewards Network

Bob Crow calls for new party

National Shop Stewards Network conference: A good starting point for strengthening struggle
---
Socialist Party workplace news

TGWU/Unite conference delegates cheer call for action on anti-trade union laws

Urgent appeal for solidarity from contract workers at the Gualberto Villarroel oil refinery in Cochabamba, Bolivia
---
Socialist Party NHS campaign

Action needed to save the NHS

Campaign saves Swansea hospital unit

Sussex must fight back against NHS cuts

Durham health cuts show need for new workers' party
---
Wales

Wales Assembly coalition no answer to workers' problems

Cardiff: Fight school cuts and closures
---
Tales from the council chambers

Nurseries campaign embarrasses councillors

Southall Labour councillors cross floor

Council workers make a stand
---
Marxist analysis: history

The 'July days' - rich in lessons for today
---
Socialist Party news and analysis

London Underground derailment: Kick out dangerous profiteers!

Kwik Save workers betrayed by bosses and union
---
Socialist Party events

Socialist Party Youth and students
---
Socialist Party review

Political discourse can swing!
---
International socialist news and analysis

South Africa: union leaders call off biggest-ever strike

Slave-labour scandal in China
---
Home | The Socialist 12 July 2007 | Join the Socialist Party
---