Link to this page: https://www.socialistparty.org.uk/issue/970/26415
From The Socialist newspaper, 8 November 2017
Thousands march in London for Palestine
Philip Taylor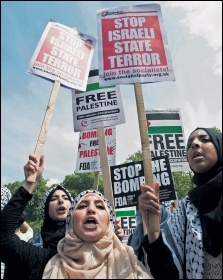 Protesting against the Israeli government's attacks on Palestine, photo Paul Mattsson (Click to enlarge)
Several thousand protesters gathered in central London on 4 November to coincide with the 100th anniversary of the Balfour declaration and to protest against the ongoing oppression of the Palestinian people.
This was not the only poignant anniversary for the Palestinians to take place this year - it is 50 years since the 1967 war which saw the Israeli state occupy the West Bank, Gaza and East Jerusalem. Furthermore, it is now the tenth year of the horrific blockade of Gaza whose residents have been subject to three murderous assaults by the Israeli military since 2008.
The situation facing the Palestinian population continues to be intolerable, and this was pointed out by all speakers at the rally who described the reality of life under the occupation - a life of arbitrary arrests, settlement building, house demolitions and checkpoints. However, the solidarity movement urgently needs to discuss the way forward in terms of how the occupation can be defeated and the just desire for a viable Palestinian state can be realised.
As we pointed out in a Socialist Party bulletin produced for the protest: "We have consistently pointed to the first Intifada (mass uprising of Palestinians in the 1980s) as a key reference point as to how the Palestinians can organise to fight the occupation of their land. And more recently to the mass protests in July 2017 that forced Netanyahu's government to remove metal detectors and cameras from around the Al Aqsa mosque compound in Jerusalem."
A real democratic and just solution to this brutal and horrendous conflict can come into existence through a coordinated movement of Israeli Jewish and Palestinian working people removing the rotten and repressive Israeli ruling class and, along with their brothers and sisters throughout the Middle East, organising society along socialist lines. We fight for an independent and equal, democratic and socialist Palestinian state, alongside a democratic and socialist Israel, as part of the struggle for a voluntary, socialist confederation of the Middle East and regional peace.
Why not click here to join the Socialist Party, or click here to donate to the Socialist Party.
---
In The Socialist 8 November 2017:
---
What we think

'Paradise' for billionaires - austerity for us
---
Socialist Party news and analysis

Westminster sexual harassment scandal

Walk out against tuition fees!

Bosses say 217 years to close pay gap - workers' struggle can close it now!

We can win the vote at 16!

Child poverty set to hit 5.2m - unions and Corbyn must act now

PFI privateers dodge tax

What we saw
---
Workplace news and analysis

Pay cap decisively rejected by PCS union members

BA mixed-fleet workers show strikes get results

Unite union sector conferences: coordinate action over pay

Picturehouse strike: "evil corporations are evil"

Arriva bus strike still solid
---
International socialist news and analysis

US: Minneapolis Socialist chimes with voters

Ireland: rail workers demand share of 'recovery'

Ireland: dangerous ideas for the ruling class

Spain: Madrid rally celebrates October revolution

Sweden: 'Revolution2017' success
---
Socialist Party reports and campaigns

Health campaign discusses strategy to save NHS

Chatsworth neuro-rehab ward still open - unions join the campaign

Housing campaigners ask Corbyn to instruct Labour council regeneration ballots

Thousands march in London for Palestine

Opposition to new academy school being built on Leeds playing fields

Orgreave campaigners' Halloween 'Death of Justice' march

Sheffield trees campaigner sentenced to prison

Brum meeting celebrates centenary of 1917
---
Socialist readers' comments and reviews

Obituary: Derek Robinson, car workers' leader, 1927-2017

Welsh update of Chekhov an engrossing tale of 1980s class conflict

Obituary: Paul Randall, 1959-2017

The Socialist inbox
---
Home | The Socialist 8 November 2017 | Join the Socialist Party
Subscribe | Donate | Audio | PDF | ebook
---