Link to this page: https://www.socialistparty.org.uk/issue/497/2669
From The Socialist newspaper, 24 July 2007
Flood crisis
New Labour ignored flood warnings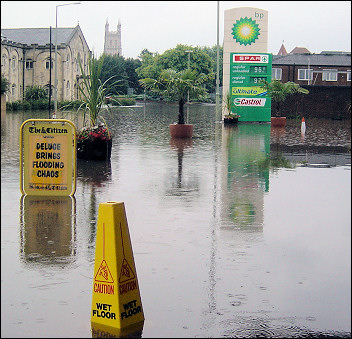 Caution wet floor - flooding in the centre of Gloucester. Photo Chris Moore
Across Gloucestershire 350,000 people have been left without water for at least a week and 50,000 without power. Gloucester is like a war zone. It's a disaster area.
Chris Moore, Gloucestershire Socialist Party
Helicopters whirr overhead and 800 people had to sleep in the leisure centre over the weekend. Blue bowsers (mini water tankers) have appeared on 250 street corners with more on their way. Hundreds of residents have been evacuated, streets are deserted and many traffic signals are not working. Turn a corner and you come across furniture stacked outside homes and sandbags across doorways.
The Foresight Flood and Coastal Defence Project report in 2004 said damage from flooding and coastal erosion could rise by 20 times over the next century, blaming climate change and an ageing drainage system.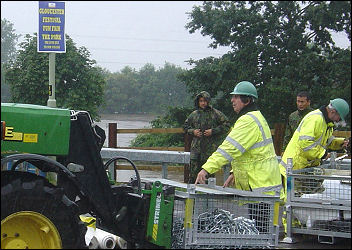 Flooding in Gloucester, photo Chris Moore
Massive spending on flood defences and better planning were recommended. Yet last year when Gordon Brown was Chancellor, the Treasury ordered the government Department for Environment, Food and Rural Affairs (DEFRA) to make £300 million cuts, putting vital flood defence schemes under threat, with the Environment Agency planning £15 million flood defence cuts.
Gordon Brown made a flying visit to the emergency services HQ in Gloucester but ignored those who've lost homes and possessions. The leisure centre is now the evacuation centre.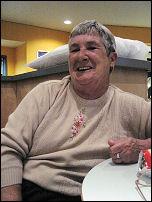 "Gordon Brown, he ain't coming here, he don't do anything for you, he's like Tony Blair". Photo Chris Moore
Joy Dovey, a 66-year-old Gloucester resident from Victoria Court retirement flats, had been evacuated and didn't know where she would be sleeping that night, said: "Gordon Brown, he ain't coming here, he don't do anything for you, he's like Tony Blair".
But the ordinary people of Gloucester were doing something. Some staff at the leisure centre volunteered to stay all weekend to help those stranded, sorting out bedding for those sleeping on the sports hall floor. The Women's Royal Volunteer Service helped with catering and local people donated food and water.
There were some council officials at the leisure centre, but many evacuated elderly people had no idea what was going to happen to them. The county council website had a headline 'Council chiefs plan for recovery' but staff had been evacuated and there was no contingency plan for contacting the council.
At Mount Priory in Gloucester people have been flooded three times in 18 months, so they set up an action group.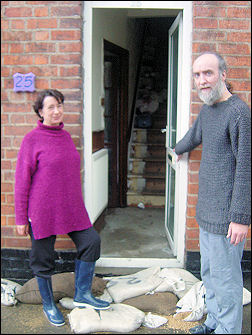 Flooding in Gloucester: Martin Ison explains: Martin Ison explains: "Nothing had ever been done about it, so we got a public meeting. "
Martin Ison explains: "Nothing had ever been done about it, so we got a public meeting. Severn Trent Water hadn't cleared the drains for 3 to 4 years before last October; since the action group formed they're cleared regularly, but they can only just cope with household waste.
"The river is supposed to take water away but is so silted up and full of gas bottles, lorry cabs, wheels etc that it overflows into the sewers and raw sewage pours into the houses. The Environment Agency is responsible for de-silting, but we keep getting excuses". The group has forced Severn Trent into promising a parallel drainage system, but not until 2010.
Incredibly work has started on that same floodplain for 450 residential flats. Gloucester City Council overruled the Environment Agency and granted planning permission, ratified by DEFRA.
More people could end up like Martin, in two foot of water, watching condoms and tampax float past his house, with a rat, escaping the floods itself, sitting on his toilet.
With no help from the council, for the last three months he and his partner have lived upstairs. His insurance excess goes up £200 after every flood and it's impossible to sell his house.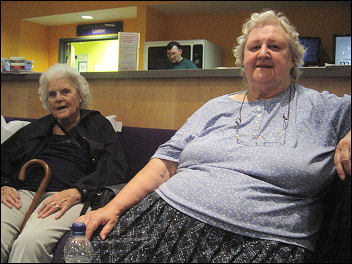 '15 minutes to move all her belongings'. Flooding in Gloucester, photo Chris Moore
ULIE STOKES from Longlevens in Gloucester had 15 minutes to move all her belongings. She said: "We've got sewage under the floors giving us sore throats and infected sores from carrying things out.
"But the Halifax (her insurance company - eds) won't give permission to take the floor up. There are six black bags of rotting food at the front of the house, but we're not allowed a skip because the Halifax's reclamation company bring their own low loader".
Each resident was left to individually contact their insurance company. There was no council planning even though floods had hit Julie's area in June when it was revealed that the drains had not been cleared for four years. Julie said: "the council hadn't even cleared the drains of mud from the previous flood".
A resident from Alney Island in Gloucester with four foot of water in his house, explained about the new flood defence system, built by the Environment Agency and Gloucester City Council after the 2000 floods: "The system is basically an 18 inch brick wall that goes through peoples' back gardens. It was a rush job, water just went straight through it".
On the day that we saw the worst floods since 1947, the government published their Green Paper giving the go-ahead for hundreds of thousands of new homes to be built in areas at risk to flooding. It's a clear message that the interests of the building industry come before the needs of ordinary people. Our lives are not safe in this government's hands. They drive through cuts and privatisation while we battle with the consequences.
Why not click here to join the Socialist Party, or click here to donate to the Socialist Party.
---
In The Socialist 24 July 2007:

New Labour ignored flood warnings

Government cuts add to flooding crisis

Floods - who pays the bill?
---
Postal workers' strike

Postal workers: Their fight is our fight

Critical dispute for postal workers
---
Socialist Party NHS campaign

NHS: no more cuts, no more privatisation
---
Socialist Party news and analysis

Support Glasgow's social work strikers

Metronet walks away from trouble...

Airports industry expansion plans fail to take off

Brown's 'affordable housing' plan - all smoke and mirrors?
---
Tales from the council chambers

Tories save New Labour skins

If this is New Labour democracy...
---
Socialist Party Marxist analysis

The China Effect
---
Socialist Party reviews

Vicious bile and grovelling sweet talk

Why do we watch Big Brother?
---
Workplace news and analysis

Visteon workers continue fight for jobs

National Shop Stewards' Network hits the ground running

Another missed opportunity on teachers' pay
---
International socialist news and analysis

Erdogan's election victory reveals Turkey's faultlines

Mass protests planned at the APEC summit
---
Socialism 2007

Socialism 2007

Rally for Socialism

Socialist Party summer camp
---
Home | The Socialist 24 July 2007 | Join the Socialist Party
---