Link to this page: https://www.socialistparty.org.uk/issue/986/27047
From The Socialist newspaper, 14 March 2018
Derby public meeting: Women's Lives Matter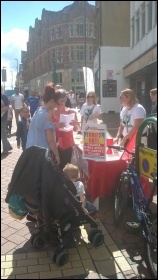 Derby Socialist Party campaign stall in support of Derby Women's Centre 12 August 2017 photo Derby SP, photo Derby SP (Click to enlarge)
Kelly Carson, Derby Socialist Party
Derby's Women's Lives Matter meeting was poignant in many respects. Not only did it take place during International Women's Day celebrations and the centenary of certain women getting the vote, but it was also 40 years since Derby Women's Centre was formed by a group of local women.
The centre previously had core funding through the council's community grants programme but that stopped in 2012.
During its history the centre has employed many staff and volunteers but due to Labour-run Derby council cuts is now staffed entirely by volunteers who rely on fundraising and public donations to keep going.
The eloquence and passion of the speakers from Doncaster Women's Aid centre, also fighting closure due to council cuts, highlighted the funding crisis faced by many similar centres across the UK.
These centres provide vital services, and having access to the support and advice they provide is a matter of life or death for many women and children facing domestic abuse.
It is essential to have safe spaces that provide the ongoing support needed to aid recovery and assist those fleeing for their lives. Not only do they save lives, they also improve them, and lessen the burden on the NHS and other emergency services.
Investing in women's services and refuges should be seen as an urgent priority. The message from these strong, compassionate women is clear. We won't give up, and we won't give in, we will unite our campaigns and call for action and we are proud to have so many good men standing in solidarity with us, and actively campaigning alongside us to protect the rights and services of women.
Why not click here to join the Socialist Party, or click here to donate to the Socialist Party.
---
In The Socialist 14 March 2018:
---
UCU strike

Determined UCU strikers: We're out to win!

UCU strike continues: set dates for next national action
---
Socialist Party Congress 2018

Socialist Party congress 2018
---
International socialist news and analysis

Italian elections create huge political shake-up

Spain: millions on streets against sexism and capitalist oppression
---
Socialist Party news and analysis

Spring Statement 2018: Tory austerity staggers on despite economic and political weakness

Profits up Wages down

Sainsbury's raise really a cut: fight for £10 with no strings!

Zero new homes 'affordable' in Blairite Manchester

What we saw
---
Iraq War

15 years since the invasion of Iraq: what we said
---
Socialist Party workplace news

Woolwich ferry workers win automation campaign

Leaked pay deal: fight for a genuine pay rise

We feel that we will win - a striker speaks

Workplace news in brief
---
Socialist Party reports and campaigns

Continuing the fighting tradition of working class women

Seeing-off the bigoted, billionaire toff!

Derby public meeting: Women's Lives Matter

Swansea Labour council votes for cuts

Campaigners continue to demand Chorley A&E is fully reopened

Leicester: Blairites block Labour Party democracy

Members dig deep into their pockets to support the party
---
Socialist Party comments and reviews

International Women's Day

Gripping spy thriller exposes hypocrisy of Falklands/Malvinas war
---
Home | The Socialist 14 March 2018 | Join the Socialist Party
Subscribe | Donate | Audio | PDF | ebook
---