Link to this page: https://www.socialistparty.org.uk/issue/988/27126
From The Socialist newspaper, 28 March 2018
USA: Huge 'march for our lives' protests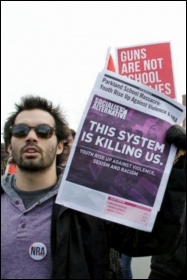 Young people in the US marched against gun violence in their hundreds of thousands, 24.3.18, photo by Boston Socialist Alernative (Click to enlarge)
Mass demonstrations took place in US cities and even internationally on 24 March to demand gun control. This was an uprising by school students demanding gun control following the massacre of 17 pupils in Parkland, Florida the previous month.
These huge demonstrations, following the million-strong student walkouts on 17 March, have forced a shift in public opinion and put the previously untouchable pro-Trump National Rifle Association lobby on the back foot.
Trump, however, showed his contempt of the Parkland student survivors - who last month had an audience with president - by hanging out at his exclusive golf course in Florida during the marches.
Socialist Alternative members (co-thinkers of the Socialist Party) in many US cities played a key role in mobilising turnouts for both 17 and 24 March events.
Why not click here to join the Socialist Party, or click here to donate to the Socialist Party.
---
In The Socialist 28 March 2018:
---
What we think

Antisemitism slurs: latest attempt to derail Corbynism
---
Socialist Party workplace news

NEU conference 2018: Strike to take on the Tories

UCU: Strike action forces bosses to retreat but keep the pressure on

NHS pay: Reject the Tories' divide and rule offer

British Museum: Carillion workers demand to be brought back in-house

Victimised recycling strikers uncowed as Hull strike wave builds

Liverpool Uni staff set to fight 220 job losses

Aberdeen bus drivers strike against pay cuts

Migrant cleaners win living wage at Mail
---
Local elections 2018

For Whom the School Bell Tolls: Our kids or the Tories?

Southampton asks "What will you do to stop education cuts?"

Campaign against Newham academies boosted by victories

Save Free School Meals!
---
Martin Luther King

The life and legacy of Martin Luther King
---
Socialist Party news and analysis

Grenfell: survivors not rehoused, inquiry not independent, blocks not safe

Walkout from undercover policing inquiry
---
Social media

Social media - the potential and the limits
---
Socialist Party reports and campaigns

Tories fear youth revolt - fight for our future

Goldsmiths students occupy and protest in support of UCU strikers

Walthamstow Save Our Square protesters thrown out of city hall for demanding a say

Northern Socialist Party conference

North West Socialist Party conference

Building fund appeal

Bristol Socialist Students join Yarlswood demo

May Day greetings: Lend your support to the fight against the bosses
---
International socialist news and analysis

France: Pressure mounts on Macron government

USA: Huge 'march for our lives' protests

Russia's predictable presidential election
---
Home | The Socialist 28 March 2018 | Join the Socialist Party
Subscribe | Donate | Audio | PDF | ebook
---