Link to this page: https://www.socialistparty.org.uk/issue/991/27217
From The Socialist newspaper, 18 April 2018
The Socialist inbox
Do you have something to say?
Send your news, views and criticism in not more than 150 words to Socialist Postbox, PO Box 24697, London E11 1YD, phone 020 8988 8771 or email [email protected]
We reserve the right to shorten and edit letters. Don't forget to give your name, address and phone number. Confidentiality will be respected if requested.
Views of letter writers do not necessarily match those of the Socialist Party.
---
'Antisemitism' smokescreen
The latest attacks on Jeremy Corbyn over alleged antisemitism have been nauseating. He has a lifelong history of fighting racism in all its forms.
You only have to listen to his speeches at the 2016 Cable Street rally which showed his real disgust at antisemitism and racism.
I see these attacks as a smokescreen by the Blairite majority of MPs who have never accepted him and never will because they are opposed to him politically - and of course they are aided and abetted by the Tory press and media.
But it's not just Jeremy that's under attack. It's the anti-austerity programme that he represents. The ruling class is terrified at the prospect of Labour implementing socialist policies in the interests of the majority and will use every dirty trick in the book to undermine him.
The pro-capitalist wing of the Labour Party was rocked to its foundations by the double leadership election victories Corbyn achieved with nearly 70% of the vote.
After years of Tory-lite policies from Blair, Brown, Miliband and so on, people wanted a real alternative to improve their lives, and Corbyn promised an alternative with a programme in the interests of the many.
To the amazement of lots of the Blairites, May's majority was slashed, and she has to rely on the DUP to keep her in office! Lots of Labour MPs refused to campaign for the manifesto during the election, with some on the right openly attacking it.
It's these same MPs in his own party that are attacking him now instead of turning their fire on the Tory enemy who are continuing with their attacks on working class people.
Its time these Labour MPs were subject to recall and democratic reselection procedures.
Frank Bowen, Liverpool
---
Imperialism's double standards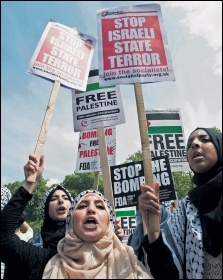 Protesting against the Israeli government's attacks on Palestine, photo Paul Mattsson (Click to enlarge)
When the Israel Defence Forces recently killed 18 Palestinians who were demanding the lifting of Israel's siege of Gaza, the British Foreign Office refused to condemn the killings and call for an outside investigation, because it had to 'establish the facts'.
After the reported nerve gas attack on civilians in Douma, Syria, the Tory government immediately blamed the Syrian regime and its Russian ally for the atrocity and demanded retaliation. No call to 'establish the facts' in this instance.
Clearly this double standard all comes down to what powers in the two conflicts serve the interests of British foreign policy.
Netanyahu's Israeli government is seen as a bulwark against Arab nationalism and radical Islam, and removing Syria's pro-Iranian Assad regime is desired, if unlikely.
Needless to say the real interests of the workers' and poor people in the region - peace, land, jobs and decent living standards - is the least considered.
Simon Carter, Forest Gate, east London
---
Save local football
For 90 years Dulwich Hamlet Football Club played their home games at Champion Hill in south London. But developers Meadow Residential, who own the ground, want to cash in and build on the site.
After their initial proposal for development was rejected by Southwark Council, Meadow dropped financial support for the club, presented it with an unexpected bill of over £120,000 - and even tried to ban the club from using the name Dulwich Hamlet FC or the initials!
Then, on 5 March, they revoked the club's licence to play at Champion Hill, erecting fencing around the ground.
In a show of solidarity, long-standing local rivals Tooting and Mitcham United is allowing Dulwich Hamlet to play at its stadium in the short term.
The developers have since rejected a £10 million bid from ex-Manchester United and England player Rio Ferdinand's social housing company Legacy.
Southwark Council has also voted in favour of an application to purchase the land from Meadow and build social housing on the site of a current car park.
On 17 March, hundreds of fans marched from East Dulwich to the padlocked gates of Champion Hill in protest.
Football fans across the UK should join a coordinated campaign calling on Southwark Council to guarantee Dulwich Hamlet the right to play at Champion Hill, if necessary by a compulsory purchase of the ground.
This should be linked to socialist demands for council housing and public ownership of the land.
Carl Harper, Peterborough
Donate to the Socialist Party
Finance appeal
The coronavirus crisis has laid bare the class character of society in numerous ways. It is making clear to many that it is the working class that keeps society running, not the CEOs of major corporations.
The results of austerity have been graphically demonstrated as public services strain to cope with the crisis.
The Socialist Party's material is more vital than ever, so we can continue to report from workers who are fighting for better health and safety measures, against layoffs, for adequate staffing levels, etc.
We must be ready for the stormy events ahead and the need to arm workers' movements with a socialist programme - one which puts the health and needs of humanity before the profits of a few.
Inevitably, during the crisis we have not been able to sell the Socialist and raise funds in the ways we normally would.
We therefore urgently appeal to all our viewers to donate to our Fighting Fund.
---
In The Socialist 18 April 2018:
---
What we think

No to the bombing of Syria!
---
Labour Party

For a fighting, democratic Labour Party
---
Socialist Party reports and campaigns

Give us your change (and more) to fight for system change!

Building fund: £150,000 milestone smashed!

The Socialist - a fighting, campaigning, workers' paper

Hull says no to war, no to austerity

Victorious Fearnville Fields campaigners thank the Socialist
---
Socialist Party news and analysis

Young people need homes

1,400 beds empty as patients lay in corridors: health unions must act now

Catalonia: 1m marchers demand self-determination

Billions for the bosses, benefit cuts for us

Them & Us
---
Local elections 2018

Labour councillors could stop unsafe 'driver-only operation' tomorrow

Grimsby local paper reveals Labour candidate 'tried to defect to the Tories'

TUSC campaigners challenge youth club cuts

Huddersfield TUSC takes on the Blairites

Butterfields tenants join TUSC campaign

Haringey TUSC fights Blairite cuts
---
Socialist history

Enoch Powell's racist 'Rivers of Blood' rant 50 years on
---
Workplace news and analysis

Usdaw conference 2018: time for new era of fighting trade unionism

UCU members vote to end pensions dispute

Bromley libraries - indefinite strike action continues

PCS rejects Acas offer - further strikes announced

Vote for a left, fighting PCS leadership

Avenue School strikers and parents win judicial review

Workers' victory over anti-union Scottish council
---
Opinion

Vital depiction of fight for Aids prevention and treatment

The Socialist inbox
---
Home | The Socialist 18 April 2018 | Join the Socialist Party
Subscribe | Donate | Audio | PDF | ebook
---