Link to this page: https://www.socialistparty.org.uk/issue/997/27426
From The Socialist newspaper, 30 May 2018
England facing water shortage due to underinvestment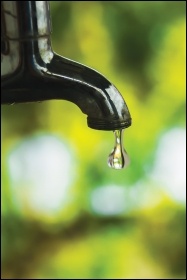 Ten of Britain's 12 major water firms admit they still use dousing rods to find leaks (Click to enlarge)
Nationalise water and utilities!
Laurel Fogarty
Serious leaks, rising domestic use, and massive consumption by an unsustainable energy sector, mean much of England could see water shortages in the coming decades, says the Environment Agency.
What irony at a time when torrential rain has caused flashed flooding in parts of Britain! Crumbling infrastructure loses over three billion litres a day. That is enough to provide water to 20 million people.
Britain's privatised water firms are so inefficient that they continue to use medieval-style superstitious divining rods to locate leaks! And the industry is still reeling from a damning 2016 parliamentary report on price fixing worth over £1 billion in additional profit, with regulator Ofwat also implicated.
Continued and careless overexploitation of resources and underinvestment by profit-driven water companies has had a devastating effect on the environment. Between 6% and 15% of UK rivers have already fallen into poor condition as a result of water overuse.
The amount of water taken from 28% of UK groundwater sources is already unsustainable, along with 18% of surface water sources such as rivers. This is a ticking time bomb for Britain's water ecosystems.
As their profits grow, and amid criticisms of tax breaks and inflated charges, water companies have put shareholder dividends above infrastructure repair, and above the rights of ordinary people to clean and sustainable water sources - as well as our right to enjoy an unspoiled environment.
Capitalism, a system that prioritises accumulation of wealth at all costs, has been shown again and again to be unable to provide the necessities of life to the vast majority of people. By paying out shareholder dividends while their leaky pipes waste billions of litres, drying up our river ecosystems, water companies have demonstrated this yet again.
Under socialism, water companies, along with all other big firms currently profiting from basic human needs, would be nationalised under democratic workers' control and management. The use of water and other natural resources would be democratically planned.
Large-scale introduction of sustainable water sources, along with renewable energy sources that reduce the need for cooling water, and a crash programme of pipe improvement, would be easily possible under a system driven by the needs of the majority, not the profits of the few.
Donate to the Socialist Party
Coronavirus crisis - Finance appeal
The coronavirus crisis has laid bare the class character of society in numerous ways. It is making clear to many that it is the working class that keeps society running, not the CEOs of major corporations.
The results of austerity have been graphically demonstrated as public services strain to cope with the crisis.
The government has now ripped up its 'austerity' mantra and turned to policies that not long ago were denounced as socialist. But after the corona crisis, it will try to make the working class pay for it, by trying to claw back what has been given.
The Socialist Party's material is more vital than ever, so we can continue to report from workers who are fighting for better health and safety measures, against layoffs, for adequate staffing levels, etc.
Our 'fighting coronavirus workers' charter', outlines a programme to combat the virus and protect workers' living conditions.
When the health crisis subsides, we must be ready for the stormy events ahead and the need to arm workers' movements with a socialist programme - one which puts the health and needs of humanity before the profits of a few.
Inevitably, during the crisis we have not been able to sell the Socialist and raise funds in the ways we normally would.
We therefore urgently appeal to all our viewers to donate to our special coronavirus appeal.
---
In The Socialist 30 May 2018:
---
Donald Trump

Stop war, fight Trump, walk out on 13 July

United working class movements can defeat Trump
---
Irish abortion referendum

Landslide vote to repeal Ireland's abortion laws

Historic victory won by grassroots movement
---
Opinion

Sting's shipbuilders showcase class pride and change from below

Aberfan disaster novel reminds us Grenfell was not an anomaly

The Socialist Inbox
---
Socialist Party news and analysis

Johnson and Rees-Mogg widen Tory Brexit splits

Welsh Labour reprivatises rail lines: reverse Tory sell-offs!

Toxic air hits schools as EU ponders slap on wrist years late

England facing water shortage due to underinvestment

Them & Us
---
PCS conference

PCS conference 2018: members ready to fight to end pay misery
---
Workplace news and analysis

UCU conference: Members are organising and winning - build the union, build the struggles!

900-strong north west NHS strike

Unison ballots workers at Yorkshire hospitals at risk of privatisation

Wales TUC 2018: Socialist Party members challenge leadership at undemocratic conference

Springfield school strike in Birmingham against job cuts and workload

Broad Left candidate elected as Usdaw deputy general secretary
---
Nationalisation

Socialist nationalisation: what it is and why we need it
---
Socialist Party reports and campaigns

Action demanded from new council

Hands off Teignmouth Hospital!

Socialist Party members inspired by revolutionary events

Police shootings in Tamil Nadu condemned

Leicester plans sales boost of 1,000th edition of the Socialist
---
Home | The Socialist 30 May 2018 | Join the Socialist Party
Subscribe | Donate | Audio | PDF | ebook
---