Link to this page: https://www.socialistparty.org.uk/issue/1005/27779
From The Socialist newspaper, 8 August 2018
A mass campaign and trade union organisation can defeat the far-right FLA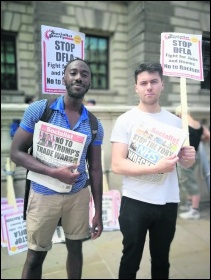 Socialist Party members on the anti-'Free Tommy Robinson' demo 9 June, photo London Socialist Party, photo London Socialist Party (Click to enlarge)
London Socialist Party
As reported in the Socialist issue 1004, RMT transport union assistant general secretary Steve Hedley has called for a trade union stewards group to defend demonstrations against the far-right 'Democratic' Football Lads Alliance (DFLA).
This follows the vicious attack on trade unionists after the DFLA marched in London on 14 July. This has now been followed by an attack by other thugs on the socialist Bookmarks bookshop in London.
This call is extremely welcome. Socialist Party members argue for the trade unions to provide stewards in our resolution that is being discussed in trade union bodies. We would urge all trade unionists to respond positively to this proposal.
The DFLA is an attempt by racist and fascist individuals and organisations to try to pull together a far-right street force. Its figurehead is former leader of the racist English Defence League, Tommy Robinson, and the mobilisations include a number of hooligan football 'firms'.
The DFLA has the backing of far-right figures internationally including 'alt-right' former adviser to Donald Trump Steve Bannon, who is aiming to raise a million pounds to fund a new right-wing movement.
Now Tommy Robinson has been released from prison it is possible that there will be more demonstrations around the country. If any far-right force invades a local community, it is essential that it is countered by a mobilisation of the local community and trade union movement.
It is very important that these counter-demonstrations are not only as big as possible, but also properly stewarded and defended. It cannot be left to the police to protect demonstrators - the police have been used to kettle, snatch, beat and intimidate student and anti-racist demonstrators. If they know that safety is being taken seriously, many more people will be encouraged to participate.
An initial appeal has been made for 20 volunteer stewards from each union - a good start towards organising for hundreds. An extensive list of trade union volunteers could be drawn up, headed up by an experienced trade union chief steward, which could be called on for any necessary mobilisations.
This could then mean hundreds of well-organised trade union stewards could form a strong team on any counter-demonstration, and could also supervise the safe dispersal of demonstrators once a march is over.
In raising this idea, we can draw on experience of mobilisations against the far-right, for example in the battles against the British National Party (BNP) in the early 1990s. Socialist Party members argued for and provided effective stewarding to defend the big Welling demonstration against the BNP HQ in October 1993 from ferocious police attack. We had to argue for this against the refusal of the Socialist Workers Party to take stewarding seriously.
When BNP activists in Tower Hamlets created a climate of fear that included several racist attacks in the early 1990s, our members argued for community defence patrols under the democratic control of the local trades council and community representatives. We also helped local people organise a whistle alarm defence campaign to protect estates.
The far-right can be defeated by a mass campaign. It is essential that a workers', anti-racist, anti-austerity movement is built that fights for jobs and homes for all, and that trade unions and Jeremy Corbyn do all they can to lead that.
This could undercut any potential support for the far right amongst alienated disillusioned working class people who have been at the brunt of austerity and decades of cuts and privatisation, and feel betrayed by capitalist politicians. Democratically controlled stewarding by the workers' movement should be an important part of that mobilisation.
Why not click here to join the Socialist Party, or click here to donate to the Socialist Party.
---
In The Socialist 8 August 2018:
---
What we think

Corbyn must end false unity with Labour's right
---
Socialist Party news and analysis

Birmingham home carers strike

Northants Council in total collapse: for a citizens' assembly to draw up a 'needs budget'

Rents soar 60% faster than pay - while spivs plan luxury homes on Green Belt

Tax-dodging tech bosses make billons ... while 6m workers fear the scrapheap

No to Tory plans for radioactive waste under national parks

Them & us
---
Trade Unionist and Socialist Coalition

The fight against Labour's Blairites and TUSC's role now
---
Workplace news and analysis

NHS workers angry at reality of mis-sold 'pay rise'

Government fails to deliver on funding and teachers' pay - demand action to win 5%

PCS union: break the pay cap - the fight continues!

Kirklees bin workers' strike forces management back

Ministry of Justice workers angry at barrage of attacks

Take on probation privatisation with union action

Bournemouth train guards' RMT strike

London cleaners' coordinated strike
---
International socialist news and analysis

Israel - Protest rally against the Nationality Law

Deadly fires ravage Greece: austerity contributed to high loss of life and property

Striking Portuguese dockers show the way forward
---
Socialist Party reports and campaigns

A mass campaign and trade union organisation can defeat the far-right FLA

Protests win temporary halt to refugee evictions in Glasgow

Why I joined: "I saw the need for Corbyn to stand against the right"

Shropshire NHS - fight the cuts to our services!

Tolpuddle festival: combative trade unionism and anticipation of general election

Trade unions mobilise against EDL in Worcester
---
Opinion

A must-read for anyone fighting NHS cuts

The Socialist inbox
---
Home | The Socialist 8 August 2018 | Join the Socialist Party
Subscribe | Donate | Audio | PDF | ebook
---