Link to this page: https://www.socialistparty.org.uk/issue/1016/28191
From The Socialist newspaper, 31 October 2018
National Gallery reps endorse Chris Baugh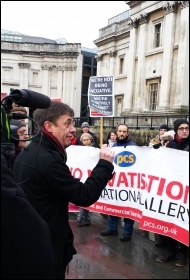 PCS assistant general secretary Chris Baugh at the National Gallery picket, 3.2.15, photo Rob Williams (Click to enlarge)
We are PCS union reps at the National Gallery. We include our branch executive positions but are writing in a personal capacity.
Chris Baugh has been an outstanding source of support to the branch for many years.
Chris was at the forefront of opposition to the privatisation of visitor services in 2015 and after a lengthy industrial dispute led negotiations that secured a robust back-to-work agreement protecting existing terms and conditions for members.
Naturally those conditions are constantly under renewed attack by the employer and again Chris has been a valuable source of advice, expertise, support and encouragement throughout. Members greatly value Chris's active involvement in our branch campaigns and the support he has consistently offered.
We are not getting involved in internal politics. All we know is that experience has taught us that when the going gets tough, this branch can rely on Chris.
We have no hesitation in recommending support for Chris Baugh's re-election as PCS assistant general secretary and urge all Left Unity members to support him.
Graham Eve (branch secretary), Colin Eeles (branch chair), Lynn Boothman (health and safety officer), Ian Hall (equalities officer), Patrick Sofela (rep)
Why not click here to join the Socialist Party, or click here to donate to the Socialist Party.
---
In The Socialist 31 October 2018:
---
What we think

Crisis Tory Budget brings no relief from austerity
---
News

Save Our Schools

Only a socialist alternative can end austerity

Homelessness, Universal Credit misery, high rents, cramped flats, isolated estates...end the housing crisis!

Philip Green scandal - bring him down like BHS

60% of wildlife wiped out - urgent action needed to save planet
---
Workplace news

Glasgow's equal pay uprising shows power of working class

CWU conference: Sharpen up our act? Yes. But weaken our democracy? No

Welsh college staff set to strike on pay and workload

UCU: General secretary censured but anti-union laws frustrate strike ballot

Driving London's buses - a laser in the eye and a boot up the bum!

PCS Left Unity election: ballot opens

National Gallery reps endorse Chris Baugh

Precarious workers march against gig economy
---
Peterloo massacre

Peterloo: "If the people were to rise and smite their enemies, was not this the time?" Samuel Bamford, demonstrator
---
International socialist news and analysis

Bolsonaro - a threat to workers and all oppressed people

Parliamentary coup in Sri Lanka
---
Socialist Party reports and campaigns

Call to arms by Southampton council unions

Campaign building to save Scarborough and district hospitals

The Socialist sales successes in Leeds
---
Opinion

'Lucas Plan' film tells story of workers who set out alternative to job losses

The Socialist inbox
---
Home | The Socialist 31 October 2018 | Join the Socialist Party
Subscribe | Donate | Audio | PDF | ebook
---