Link to this page: https://www.socialistparty.org.uk/issue/1030/28721
From The Socialist newspaper, 20 February 2019
Leicester Socialists stand against Blairite mayor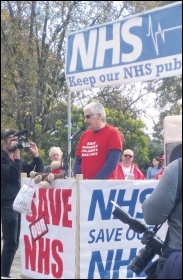 Socialist Party member Steve Score speaking at the demo to save Grantham A&E and the NHS, 14.10.17, photo East Midlands Socialist Party (Click to enlarge)
Leicester Socialist Party has announced it has selected Steve Score, local campaigner, to stand in May's mayoral elections.
Steve chaired the successful Save Glenfield Children's Heart Centre campaign and continues to be involved in local campaigning around defending the NHS. He has a long record in Leicester of fighting government and local cuts in services. He was also the secretary of the local anti-Poll Tax Federation which locally led the struggle to end the local tax introduced by Thatcher in 1990 and resulted in it being scrapped.
Steve Score said: "Over years devastating government cuts have affected councils. But instead of standing up to the government, Leicester's city mayor has been meekly passing on these cuts. At the same time he has instead focused on vanity projects in the city centre.
"The cuts he has made have in particular hit the most vulnerable. When homelessness is rocketing, hostels and homelessness services have been cut and council house building has been almost non-existent. When there has been a dramatic rise in people being forced to go to foodbanks, often because of cuts in benefits, welfare rights services are being cut. Cuts have been made to youth services, family centres, voluntary services, libraries, community centres and many others.
"As a socialist I believe there is an alternative. I would take a stand and refuse to implement any Tory cuts in Leicester by proposing a legal no cuts budget. This is possible if the council used some of its millions of pounds in reserves and borrowing powers to maintain services. This would allow time to build a city wide campaign against cuts and link up with other authorities across the country to force the much needed money from the government. All public services must be taken back in-house by the council.
"People power saved the Glenfield heart centre. Similarly, a massive campaign led by the mayor and councillors could save our services.
"I opposed the city mayoral system when it was brought in without asking the people of Leicester. It centralises too much power into the hands of one person and relegates councillors to mere scrutineers. If I was to be elected I would push for a referendum on the mayoral system by the end of my term of office to try to abolish it.
"We did not stand candidates in the last general election because we support the anti-austerity policies Jeremy Corbyn proposed. However where local Labour councillors and mayors carry through Tory policies we believe we have to make a stand."
Leicester Socialist Party
Donate to the Socialist Party
Finance appeal
The coronavirus crisis has laid bare the class character of society in numerous ways. It is making clear to many that it is the working class that keeps society running, not the CEOs of major corporations.
The results of austerity have been graphically demonstrated as public services strain to cope with the crisis.
The Socialist Party's material is more vital than ever, so we can continue to report from workers who are fighting for better health and safety measures, against layoffs, for adequate staffing levels, etc.
We must be ready for the stormy events ahead and the need to arm workers' movements with a socialist programme - one which puts the health and needs of humanity before the profits of a few.
Inevitably, during the crisis we have not been able to sell the Socialist and raise funds in the ways we normally would.
We therefore urgently appeal to all our viewers to donate to our Fighting Fund.
---
In The Socialist 20 February 2019:
---
News

Nationalise Airbus and other manufacturing plants to save jobs now!

NHS crisis deepens: Workers' and community action can save our health service

What we heard

What we saw
---
Youth climate strikes

"There's no planet B": Thousands of youth strike against climate change - we need socialist change!

Youth strike for the climate reports: "There's no planet B"
---
Opinion

TV: Les Misérables - Hugo's novel and this adaptation both offer a message of hope

The Socialist Inbox
---
What we think

Eight Blairites split - Now kick out the rest
---
Workplace news

PCS Left Unity must unite on pay and elections

Universal Credit staff ballot for action

Annoyed?! I'm annoyed to be on poverty wages

Nationalise to save jobs at Honda!

Birmingham bin strike against 'blacklisting'

Deliveroo riders strike against exploitative pay and conditions

Leicester college pay strike goes on

Cardiff Uni: urgent action needed to stop job cuts

Hackney: Unite fights racism and victimisation

Harrowing accounts of austerity at Unison women's conference

Unite GLL pay campaign
---
International socialist news and analysis

Spanish state: social polarisation and budget defeat force snap election
---
Socialist Party reports and campaigns

Unite union London council workers back Enfield Labour no-cuts call

Leeds TUC presents a no-cuts alternative budget

Socialist Students conference shows potential for fighting leadership

London housing campaigners disrupt auction

Birmingham Uni: Standing up to racism is not harassment!

Leicester Socialists stand against Blairite mayor

Lincoln students back UCU ballot

Leicestershire needs NHS beds

Claimants and union slam Universal Credit

Energy retail firm collapse hits Tyneside
---
World economy

New recession fear stalks the world economy
---
Home | The Socialist 20 February 2019 | Join the Socialist Party
Subscribe | Donate | Audio | PDF | ebook
---