Link to this page: https://www.socialistparty.org.uk/issue/1031/28752
From The Socialist newspaper, 27 February 2019
Honda closure threatened: Corbyn must pledge nationalisation to save jobs
"After really soul-searching on this issue, can I in all conscience say that I want to make Jeremy Corbyn prime minister and the team around him - put them in charge of our national security? At the 2017 general election, let's just be honest, nobody thought that was going to be a prospect. At a future general election, it could be a prospect, and in all conscience I can't do that."
This admission by Blairite Chuka Umunna shows that his reason for splitting from Labour isn't that Jeremy Corbyn isn't electable but precisely that he may be. The splitters hope that their move will sabotage Labour and be a further insurance against a Corbyn government.
The 2017 election showed all the enemies of the working class that it was possible for Corbyn to win a general election.
May gambled on an early election because the polls, along with the council election results, showed her on course for a comfortable victory - which she hoped would provide her with breathing space to push through her Brexit deal.
Almost alone on the left, the Socialist Party believed that Corbyn could turn the situation around if he put forward a bold left-wing programme - such was the anger within the working class, as well as among many middle-class families, after a decade of austerity.
Corbyn's manifesto didn't go as far as it could have. But it was a radical departure from the pro-big-business policies of Blair, Brown and Miliband. His policies of public ownership, a £10-an-hour minimum wage and particularly the abolition of student tuition fees transformed the election, denying May her majority and pushing her and the Tories into crisis.
It is therefore crucial that, amid the confusion engineered by the Blairites and fanned by the media, Corbyn goes on the political offensive to differentiate his Labour Party from the right wing. As Umunna and the ex-Tories in the Independent Group wax lyrical about how much they agree with each other, Corbyn should boldly set out a radical, socialist programme.
This will expose the Blairites who are linking up with the likes of Anna Soubry. She is a fully paid-up disciple of Cameron and Osborne and their brutal austerity offensive. Their policies have devastated working-class communities and led to a 'lost decade' of living standards for workers. Cameron was also the architect of the undemocratic (anti-)Trade Union Act, building on Thatcher's anti-union laws.
As part of setting out such a programme, Corbyn needs to unapologetically outline what is needed for a Brexit in the interests of working-class people. Up until now, Jeremy Corbyn has resisted calls from the right and, unfortunately, even some on the left within Labour, to reverse Brexit. He has been encouraged in this direction by Unite the Union general secretary Len McCluskey, for example. There is now widespread coverage in the capitalist media suggesting that Corbyn may be retreating in the face of the Blairites pressure. This would be a mistake - instead he needs to go on the political offensive against them.
The best way to do this is to expose the neoliberal role of the EU, which acts for the benefit of the multi-national corporations, enshrining privatisation and the 'race to the bottom' of workers' rights and living standards by seeking to undermine union negotiated collective agreements. Corbyn should explain that his popular policies of renationalisation would come into collision with EU rules.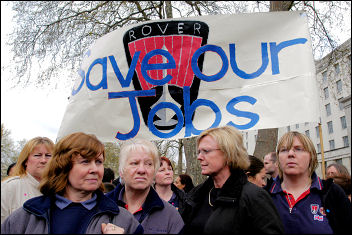 When Rover cars at Longbridge was threatened with closure in 2000, Blairís Labour government washed its hands of responsibility and instead of nationalising the assets of owner BMW it allowed a takeover by asset strippers Phoenix Consortium, only for it t
Nationalisation pledge
The proposed, devastating 2021 closure of the Honda car plant in Swindon, with 3,500 workers' jobs at risk, is an opportunity for Corbyn to cut through any fog about his policies. He should go to the plant, as he did to Port Talbot in 2016, when the town's steelworks were being threatened with closure.
Back then, after meeting the unions and the workforce, Corbyn said, "if necessary" ministers must be "prepared to use their powers to take a public stake in steelmaking to protect the industry and British manufacturing".
Corbyn should publicly state that he will support the Honda workers in any action they take to defend their jobs. But this should be on the back of a pledge that a Labour government led by him would take the Honda plant into public ownership to save jobs and the community.
Out of a town of about 180,000 people, it is estimated that 12,000 jobs or more are on the line if component and related jobs are included. A demonstration in Swindon, led by the shop stewards, Jeremy Corbyn and Len McCluskey, demanding nationalisation, would lift the sights of workers and put huge pressure on the Tories to intervene.
In 1971, the Tory government of Edward Heath nationalised Rolls Royce through emergency legislation to save the company. Later the same year, the Upper Clyde Shipbuilders in Glasgow went into liquidation. The shop stewards' committee organised a 'work in' - effectively a working occupation of the shipyards. It became the focus of mass solidarity. Over 80,000 marched through the city in support.
Heath was determined to face it down - to send a message that there would be 'no more Rolls Royces' but he was forced to relent and, again, the government had to intervene. The Upper Clyde Shipbuilders' 'work in' was a significant act in pushing Tony Benn to the left.
The Port Talbot steelworks weren't closed in 2016. The National Shop Stewards Network called an impromptu demonstration in the town centre calling for the works to be nationalised. Several hundred took part - but it had widespread media coverage and helped to articulate the way forward when the steel unions were refusing to make the call for nationalisation.
Coming months before the Welsh Assembly elections and the EU Referendum, it proved politically impossible for politicians in both Cardiff and Westminster to preside over such a disastrous closure. Even embattled Tory Prime Minister David Cameron appeared to support at least a temporary, partial nationalisation.
But the fact that Jeremy Corbyn was, by then, Labour leader was an additional factor. The capitalist establishment, which Blairites like Umunna are agents of, still fears a Corbyn-led government because of the expectations it could raise amongst workers, who the capitalists fear could push him further to the left.
Corbyn's intervention now could transform the fight at Honda and other major threatened workplaces. At the same time, it could expose the real face of his pro-capitalist opponents - both inside and newly outside Labour.
Donate to the Socialist Party
Coronavirus crisis - Finance appeal
The coronavirus crisis has laid bare the class character of society in numerous ways. It is making clear to many that it is the working class that keeps society running, not the CEOs of major corporations.
The results of austerity have been graphically demonstrated as public services strain to cope with the crisis.
The government has now ripped up its 'austerity' mantra and turned to policies that not long ago were denounced as socialist. But after the corona crisis, it will try to make the working class pay for it, by trying to claw back what has been given.
The Socialist Party's material is more vital than ever, so we can continue to report from workers who are fighting for better health and safety measures, against layoffs, for adequate staffing levels, etc.
Our 'fighting coronavirus workers' charter', outlines a programme to combat the virus and protect workers' living conditions.
When the health crisis subsides, we must be ready for the stormy events ahead and the need to arm workers' movements with a socialist programme - one which puts the health and needs of humanity before the profits of a few.
Inevitably, during the crisis we have not been able to sell the Socialist and raise funds in the ways we normally would.
We therefore urgently appeal to all our viewers to donate to our special coronavirus appeal.
---
In The Socialist 27 February 2019:
---
What we think

Honda closure threatened

From anger to action to save Honda plant
---
Socialist Party feature

Defending the city that dared to fight
---
Council cuts

Kirklees: Labour and Green councillors refuse to fight the cuts

Leicester: cuts passed in record time - use the £100m reserves!

Worcestershire: save the nine libraries
---
Socialist Party news and analysis

Kick out austerity politicians

Socialist change, not climate change!

Tory education 'reforms'

Blairite traitor Ian Austin - byelection now!

Cuts councils massage homelessness figures

US: "Launch a mass, working-class fightback"
---
Workplace news and analysis

Supermarket giants merger: protect jobs and fight price hikes

Birmingham Bin workers and home carers strike on same day

University and College Union: anti-union laws frustrate strike ballot again

Manchester posties strike against bullying

Liverpool Women's Hospital

PCS union: help us win the elections and pay campaign

South East Unison annual general meeting votes for no-cuts budgets
---
Socialist Party reports and campaigns

E-subscribe to the Socialist today!

Tommy Robinson BBC demo: socialist fightback needed to undermine far right

Nottingham Labour Corbyn rally

PCS union branch opposes cuts to women's services

International Women's Day meetings and other events

Five years on - and still no justice for Zane
---
Opinion

Non-fiction: 'Unhealthy Profits: PFI in the NHS'

Art exhibition: 'Unobtania' by Peter Robson

The Socialist inbox
---
Home | The Socialist 27 February 2019 | Join the Socialist Party
Subscribe | Donate | Audio | PDF | ebook
---