Link to this page: https://www.socialistparty.org.uk/issue/1033/28836
From The Socialist newspaper, 13 March 2019
PCS union elections: Huge support for Chris Baugh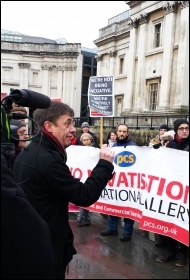 PCS assistant general secretary Chris Baugh at the National Gallery picket, 3.2.15, photo Rob Williams (Click to enlarge)
Marion Lloyd, PCS national executive committee (personal capacity)
The PCS civil servants' union elects its assistant general secretary (AGS) every five years and its national executive committee annually. The ballot for these positions takes place 16 April to 19 May.
At the close of nominations, Socialist Party member and current AGS, Chris Baugh, had received 87 branch nominations. Socialist Party members Marion Lloyd and Dave Semple received nominations for re-election to the NEC.
All three will be standing on a platform which includes:
Full support for the union's 2019 pay claim of 10% (£2,400 a year cash underpin) and a return to national bargaining on pay and conditions
Full support for the pay ballot for strike action to support the claim, which takes place 18 March to 29 April
Union officials to be accountable through periodic election
All major decisions to be made through the elected lay structures
Commitment to the removal of all barriers to equality at work, within the union and in society more generally
Support for the election of a Corbyn-led Labour government, but with the right to support candidates who support us
Before his election as AGS in 2004, Chris Baugh was a leading rank-and-file left activist in the union for many years. He played a direct and major part in democratising the union and fighting the right wing.
Chris has successfully stood three times for re-election as AGS. He stands this time not only on his record as an activist but also on his achievements as AGS. These include green jobs and climate change, challenging discriminatory employment practices and helping to stabilise union finances following Tory attacks on check-off.
Chris is the Left Unity candidate in the AGS election. He faces a challenge from two other candidates, one a member of an ultra-left group and the other a non-Left Unity member and union full-time officer. The 87 nominations for Chris Baugh shows the widespread support he has among the union's lay activists.
They will fight for his re-election and that of the Democracy Alliance NEC slate.
Donate to the Socialist Party
Finance appeal
The coronavirus crisis has laid bare the class character of society in numerous ways. It is making clear to many that it is the working class that keeps society running, not the CEOs of major corporations.
The results of austerity have been graphically demonstrated as public services strain to cope with the crisis.
The Socialist Party's material is more vital than ever, so we can continue to report from workers who are fighting for better health and safety measures, against layoffs, for adequate staffing levels, etc.
We must be ready for the stormy events ahead and the need to arm workers' movements with a socialist programme - one which puts the health and needs of humanity before the profits of a few.
Inevitably, during the crisis we have not been able to sell the Socialist and raise funds in the ways we normally would.
We therefore urgently appeal to all our viewers to donate to our Fighting Fund.
---
In The Socialist 13 March 2019:
---
News

Anger after violent youth deaths - Communities need public services not cuts

Weak Tories must go. General election now!

Them & Us
---
Opinion

History: Alice Wheeldon - an anti-war socialist persecuted by the state

The Socialist Inbox
---
Socialist Party reports and campaigns

International Women's Day protests

For socialist change, not climate change!

Southampton: Socialist stand against cuts

No to racism - Fight for socialism

Memorial to working-class fighters who fought fascism
---
What we think

Only socialist planning can save the planet: Build a mass working-class struggle to achieve it!
---
Workplace news

Neither Tories or EU - only fighting trade unions and a Corbyn-led government can deliver workers' rights

PCS union elections: Huge support for Chris Baugh

Newark NSK strike: "Even Victorian workers got a day off each week. We're expected to have just one weekend off every three weeks"

Breaking news: Birmingham bin workers' strike suspended pending new deal

Workplace news in brief
---
Universal Credit

Tories out. Scrap Universal Credit. Fight for living wages and welfare!
---
International socialist news and analysis

Brazil: The Threats, attacks and contradictions of Bolsonaro's regime
---
Obituary

Obituary Joan Beale - Labour women's activist and Militant supporter
---
Home | The Socialist 13 March 2019 | Join the Socialist Party
Subscribe | Donate | Audio | PDF | ebook
---