Link to this page: https://www.socialistparty.org.uk/issue/1036/28932
From The Socialist newspaper, 3 April 2019
Devastating 62% cuts in Leicester
Vote for socialist mayor and council candidates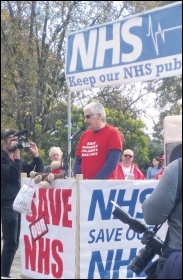 Socialist Party mayoral candudare Steve Score speaking at the demo to save Grantham A&E, photo East Midlands Socialist Party (Click to enlarge)
Steve Score, former chair Save Glenfield Children's Heart Centre and Leicester Socialist Party mayoral candidate
In Leicester, spending on all council services, excluding social care, has been slashed by no less than 62% in ten years. This has had a devastating effect.
Cuts have particularly hit the most vulnerable. When homelessness has been rocketing, hostels and homelessness services have been cut and council house building has been almost non-existent.
When there has been a dramatic rise in people being forced to go to foodbanks, often because of cuts in benefits, welfare rights services are being cut. Cuts have been made to youth services, children's centres, voluntary services, libraries, community centres and many other services.
At the same time, the mayor has money to hand over £10 million to Travelodge - which has recently announced profits of £122 million - to build another new hotel in the city centre!
The council has had a vindictive approach to the voluntary sector. The Socialist Party was contacted by one mental health support organisation whose previously peppercorn rent has been hoisted from £1 a year to £10,000 a year!
Labour in Leicester has an all-powerful elected city mayor and every council seat bar one Tory and one Lib Dem. Socialist Party branches in Leicester decided we had to challenge those councillors who were doing the Tories' dirty work. So we are standing against the mayor and in ten selected seats.
The mayor takes home over £70,000 a year. Elected public representatives should not be cut off from the living standards of the people they are meant to represent.
If elected, I pledge to only take the average wage of a skilled worker in Leicester, donating the majority of the rest of the salary to the fightback against austerity and capitalism.
We are standing on a platform of using the more than £100 million in useable reserves and borrowing power to set a no-cuts budget.
This could create time to build a mass campaign to force the money needed from the government. We have recent experience of how a campaign that involves trades unions and thousands of local people can win.
Socialist Party members played a prominent role in the Save Glenfield Children's Heart Centre campaign which was victorious in reversing NHS England's decision. We could do the same with council services!
Donate to the Socialist Party
Finance appeal
The coronavirus crisis has laid bare the class character of society in numerous ways. It is making clear to many that it is the working class that keeps society running, not the CEOs of major corporations.
The results of austerity have been graphically demonstrated as public services strain to cope with the crisis.
The government has now ripped up its 'austerity' mantra and turned to policies that not long ago were denounced as socialist. But after the corona crisis, it will try to make the working class pay for it, by trying to claw back what has been given.
The Socialist Party's material is more vital than ever, so we can continue to report from workers who are fighting for better health and safety measures, against layoffs, for adequate staffing levels, etc.
When the health crisis subsides, we must be ready for the stormy events ahead and the need to arm workers' movements with a socialist programme - one which puts the health and needs of humanity before the profits of a few.
Inevitably, during the crisis we have not been able to sell the Socialist and raise funds in the ways we normally would.
We therefore urgently appeal to all our viewers to donate to our Fighting Fund.
---
In The Socialist 3 April 2019:
---
What we think

Corbyn and workers' movement must lead fight for general election and socialist alternative to EU bosses' club
---
International socialist news and analysis

Mueller report underlines Democrats' weakness

40 years after Three Mile Island disaster

Corporate capitalism jeopardises air safety
---
News

Cuts and chaos. Enough. General election now!

End Tory cold cruelty: life under austerity in Merthyr

Working families in poverty: fund homes and childcare

Toxic Grenfell fire residue threatens survivors

Poor doors, segregated playgrounds

Probation privatisation failure
---
Workplace news

Thousands of Honda workers march in Swindon

Greenwich Unite demands workers brought in-house

Well-supported strike against cuts at Bradfield school

Chesterfield hospital privatisation plans

Workplace news in brief
---
PCS elections

PCS elections: Support socialist candidates
---
Socialist Party reports and campaigns

Socialist change not climate change

Vote for socialist mayor and council candidates

NHS marches in Yorkshire and London

Financing the fightback

Discussion and debate at Leeds Trans Pride

Socialists say we need a workers' Brexit at Young Labour debate

Reclaim the Game book launch
---
Opinion

The Socialist Inbox
---
Home | The Socialist 3 April 2019 | Join the Socialist Party
Subscribe | Donate | Audio | PDF | ebook
---