Link to this page: https://www.socialistparty.org.uk/issue/1041/29073
From The Socialist newspaper, 8 May 2019
Northern Ireland: Socialist wins council seat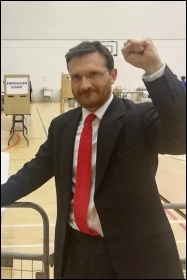 Socialist Party (Ireland) member Donal O'Cofaigh has won a seat on Fermanagh and Omagh Council (Click to enlarge)
Socialist Party (CWI Ireland) member Donal O'Cofaigh, standing as Cross-Community Labour Alternative, has been elected as a councillor. Donal was standing in the Enniskillen ward for Fermanagh and Omagh council.
Emerging victorious, Donal said: "I am honoured to have been elected by the people of Enniskillen. My deepest thanks to everyone who gave me their backing.
"For me, this is not a personal victory but a political one - it is a victory for cross-community, socialist politics.
"It reflects a growing opposition to the sectarian games, cuts and backward social policies of the main parties.
"As well as holding the establishment parties to account in the council chamber, I will use my position to assist working-class people from all backgrounds in fighting back to defend jobs, public services and our environment.
"It is fitting that this breakthrough has come in the centenary year of Fermanagh Council of Trade Unions. I hope this is just the beginning.
"I want to help rebuild the labour movement as a real alternative to the dead end of Green and Orange politics in Fermanagh and across Northern Ireland."
Donate to the Socialist Party
Coronavirus crisis - Finance appeal
The coronavirus crisis has laid bare the class character of society in numerous ways. It is making clear to many that it is the working class that keeps society running, not the CEOs of major corporations.
The results of austerity have been graphically demonstrated as public services strain to cope with the crisis.
The government has now ripped up its 'austerity' mantra and turned to policies that not long ago were denounced as socialist. But after the corona crisis, it will try to make the working class pay for it, by trying to claw back what has been given.
The Socialist Party's material is more vital than ever, so we can continue to report from workers who are fighting for better health and safety measures, against layoffs, for adequate staffing levels, etc.
Our 'fighting coronavirus workers' charter', outlines a programme to combat the virus and protect workers' living conditions.
When the health crisis subsides, we must be ready for the stormy events ahead and the need to arm workers' movements with a socialist programme - one which puts the health and needs of humanity before the profits of a few.
Inevitably, during the crisis we have not been able to sell the Socialist and raise funds in the ways we normally would.
We therefore urgently appeal to all our viewers to donate to our special coronavirus appeal.
---
In The Socialist 8 May 2019:
---
Socialist Party election analysis

Local elections: Tory meltdown but Labour loses ground

England council elections: socialist anti-cuts message chimes with voters

Leicester elections: "We planted a marker for the future"

Bolsover elections: Labour's cuts councillors punished by voters

Halton Brook election: support for our policies on doorstep
---
International socialist news and analysis

Spanish elections - new upheavals underline need for a revolutionary socialist alternative
---
Socialist Party news and analysis

Climate catastrophe looms: we need socialist change

Young and old, unite and fight!

Water bosses plan to undermine nationalisation: no compensation for fat cats!

Northern Ireland: Socialist wins council seat

Them & Us
---
Workplace news and analysis

Unions must back a general election and oppose bosses' EU

Doncaster NHS pay win shows: strikes can get results!

PCS union: listen to members, link the campaigns - we can win fight on pay

Usdaw union conference demands action on pay, jobs and the right

UCU general secretary election: fight for a left leadership!

Newham gas workers to strike

Hull dinner ladies protest against loss of week's pay

Asda workers protest against attacks on paid breaks and bank holiday working

Woolwich Ferry staff to strike over pay and safety

Radiographers' union slams professional costs
---
Socialist Party reports and campaigns

Labour launches homelessness campaign

Socialist vision at Leeds May Day rally

Alternative housing awards shames bosses
---
Opinion

Sequel to 'A Very British Coup' - workers' struggle, not bosses' EU and media, is route to socialism

'Line of Duty' - twists and turns as organised crime meets police corruption

The Socialist Inbox
---
Home | The Socialist 8 May 2019 | Join the Socialist Party
Subscribe | Donate | Audio | PDF | ebook
---