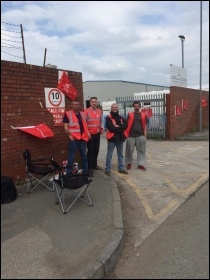 Colloids workers on strike in Kirkby May 2019, photo Neill Dunne (Click to enlarge: opens in new window)
Neill Dunne, Liverpool and District Socialist Party
On 20 May I attended the picket line for an unfair dismissal at Colloids factory in Kirkby. A Unite the Union shop steward claims he was singled out and targeted for unfair dismissal.
He said that he was sacked for not wearing personal protective clothing while entering the shop floor to hand in a sick note!
A culture of no helmets and/or hi vis vests had seeped into the workplace culture so this shows that a union rep had possibly been targeted to be made an example of while other cases have been ignored. Unite has supported this strike and intend to see this fight on till the end.
With other workers concerned at the nature of the sacking, staff have now asked for forms to join the union for possible legal protection in the future.
The strike has gained support from local activists and has now lasted over a week. There is now a big effort to get a big turnout when the company's CEO arrives soon.
The strikers want to see the Unite rep reinstated with a member of staff demanding: "A warning is all that is needed, and consistency with the disciplinary process with nobody singled out for harsher treatment is important in any workplace."