Link to this page: https://www.socialistparty.org.uk/issue/1046/29235
From The Socialist newspaper, 12 June 2019
Socialist Party members make big impact at trades council conference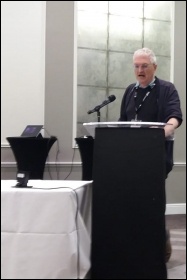 Socialist Party member Kevin Parslow addressing the 2019 trade union councils' congress, photo by Iain Dalton (Click to enlarge)
Iain Dalton, Leeds TUC delegate
Socialist Party members made a big impact as delegates at the TUC's trade union councils' congress 8-9 June in Bournemouth.
Among the various motions passed, Socialist Party member Tanis Belsham-Wray moved one in support of the still unresolved Arriva Rail North guards' dispute, making the call for the company to be stripped of its contract and the service brought back into public ownership.
A motion was carried unanimously, based on the model by the Women's Lives Matter campaign calling for councils to defend domestic violence services, including by setting no cuts budgets.
Kevin Parslow seconded a number of motions from London which had originated from Waltham Forest Trade Union Council dealing with the fire service after the Grenfell Tower disaster and opposing gentrifying regeneration schemes.
Socialist Party members also tried to bring emergency motions in solidarity with the student climate change strike. Though neither was debated on congress floor, this did force the conference to issue a statement of full solidarity with student strikes and opposition to any reprisals from schools.
On another climate change motion Tanis was able to point to the way trade union councils in Yorkshire had provided active support to the students, including being invited to address rallies in Leeds, York and Hull as well as providing a meeting place for school students to organise in York.
General election
Socialist Party member Katrine Williams moved an emergency motion making the demand to actively campaign for a general election on a positive programme of workers' rights and socialist demands for jobs, pay and services and nationalisation.
The motion also called on the TUC to encourage trade union councils to hold meetings and rallies to discuss a trade union and socialist response to the Brexit Party and a workers' programme for Brexit.
Despite TUC opposition this was decisively carried by conference, with a handful of votes against.
Throughout the conference Socialist Party members made the case for trade unions to take a lead on these issues.
We fully supported the call for trade union councils to be actively involved in the Stop and Scrap Universal Credit campaign. We argued that trade unions can give an outlet for the anger of workers by providing a collective way to tackle the problems facing our class.
Donate to the Socialist Party
Finance appeal
The coronavirus crisis has laid bare the class character of society in numerous ways. It is making clear to many that it is the working class that keeps society running, not the CEOs of major corporations.
The results of austerity have been graphically demonstrated as public services strain to cope with the crisis.
The government has now ripped up its 'austerity' mantra and turned to policies that not long ago were denounced as socialist. But after the corona crisis, it will try to make the working class pay for it, by trying to claw back what has been given.
The Socialist Party's material is more vital than ever, so we can continue to report from workers who are fighting for better health and safety measures, against layoffs, for adequate staffing levels, etc.
When the health crisis subsides, we must be ready for the stormy events ahead and the need to arm workers' movements with a socialist programme - one which puts the health and needs of humanity before the profits of a few.
Inevitably, during the crisis we have not been able to sell the Socialist and raise funds in the ways we normally would.
We therefore urgently appeal to all our viewers to donate to our Fighting Fund.
---
In The Socialist 12 June 2019:
---
Safe homes for all

Fire tears through Barking flats - cladding off now!

Grenfell two years on - Still fighting for safety and justice
---
Nationalise to stop closures

Ford closure announcement must be met with united response of defiance

Nationalise Ford to prevent closure

Fight the closures save every job!
---
News

Widespread condemnation of horrifying, violent, homophobic assaults

Terrible child murders linked to cuts

Tory drug hypocrisy
---
Workplace news

Scottish airport strikes - fight for better pay and pensions

Stagecoach strike - bus workers show how it's done

Socialists in Unison hold positions in elections

South Western Railway guards to strike again

Socialist Party members make big impact at trades council conference

Southampton hospital workers win

Sellafield nuclear workers' strike
---
International socialist news and analysis

Southern Ireland elections

Sudan: Military crackdown to break revolution

Nigeria: Stop police harassment of Abbey and Azeez!
---
Socialist Party reports and campaigns

D-Day for fighting Trump attack on NHS

Edmonton joins Enfield North Labour in supporting 'no cuts' fightback strategy

Save Essex libraries protest
---
Opinion

TV Review: Chernobyl - Workers' heroism vs sclerotic Stalinism

The Socialist Inbox
---
Home | The Socialist 12 June 2019 | Join the Socialist Party
Subscribe | Donate | Audio | PDF | ebook
---