Link to this page: https://www.socialistparty.org.uk/issue/1057/29614
From The Socialist newspaper, 25 September 2019
Bromley library strikers - fighting on to save our libraries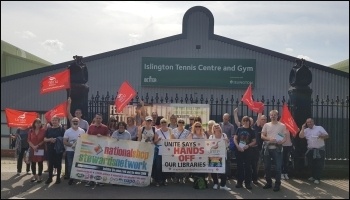 Bromley library workers protesting outside GLL tennis centre in Islington, supported by the NSSN and members of the Socialist Party, 21st August 2019, photo Isai Priya
Greenwich Leisure Limited, which has a contract to run public libraries in Bromley, will be meeting with the Unite union to discuss what is the longest running indefinite strike in the country.
We are now at a crucial stage in the campaign. The employers have been expecting the strike to collapse, but they could not have been more wrong. The strike is solid - largely due to the determination of the strikers but also because of the generous donations from trade union branches and individuals.
This is a vitally important dispute within local government - at the heart of it is the impact of privatisation. A union win in Bromley could lead to a domino effect, with the call for in-sourcing of services becoming louder and louder.
We are therefore making a further financial appeal to trade unions to support the strikers. Cheques can be made payable to Onay Kasab and forwarded to 33-37 Moreland St, London, EC1V 8BB and messages of support via [email protected]
Donate to the Socialist Party
Finance appeal
The coronavirus crisis has laid bare the class character of society in numerous ways. It is making clear to many that it is the working class that keeps society running, not the CEOs of major corporations.
The results of austerity have been graphically demonstrated as public services strain to cope with the crisis.
The Socialist Party's material is more vital than ever, so we can continue to report from workers who are fighting for better health and safety measures, against layoffs, for adequate staffing levels, etc.
We must be ready for the stormy events ahead and the need to arm workers' movements with a socialist programme - one which puts the health and needs of humanity before the profits of a few.
Inevitably, during the crisis we have not been able to sell the Socialist and raise funds in the ways we normally would.
We therefore urgently appeal to all our viewers to donate to our Fighting Fund.
---
In The Socialist 25 September 2019:
---
News

Another blow for Boris. Johnson and Tories must go. General election now!

Labour votes to abolish academies and private schools

Nationalise Thomas Cook to save jobs and protect passengers

Far right pose increasing terrorism threat
---
What we think

Capitalist political crisis: Central task is to force general election and elect Corbyn-led Labour government on socialist policies
---
Climate change

Climate Crisis: Socialist Green New Deal needed

4m on climate strikes as workers join students
---
Workplace news

PCS NEC bypasses members on backing Labour candidates

Hull construction workers strike against blacklisting

CWU reps determined to stop bosses' attacks

Bromley strikers - fighting on to save our libraries

Asda protests
---
Housing

Housing - bold, socialist measures necessary
---
Socialist Party reports and campaigns

Standing up for the needs of working-class people
---
International socialist news and analysis

Drone attacks on Saudi Arabia: Tensions ratcheted up
---
Opinion

The Socialist Inbox
---
Home | The Socialist 25 September 2019 | Join the Socialist Party
Subscribe | Donate | Audio | PDF | ebook
---