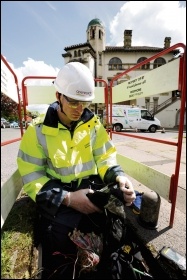 BT Openreach internet engineer at work, photo by BT/Johnnie Pakington/CC (Click to enlarge: opens in new window)
CWU member in Openreach
Labour's policy announcement to nationalise Openreach and BT broadband infrastructure, and provide free internet for all, has had an impact. Debate on the Openreach in-house social media had to be shut down, with reminders that it should not be a forum for us to express our political opinions!
A privatised telecoms network has proven itself to have failed to deliver with only 6% of the UK with fibre-optic cables right to their front door, well behind much of the rest of the world. The failure of the market has meant that policy announcements from the Tories have spoken of investment of £5 billion of public money. If we are paying for it, we should own it!
In reality, the public has paid historically for the construction of the infrastructure of underground ducts, telephone exchanges and telegraph poles, built before privatisation in the 1980s, as well as monthly through their "line-rental".
Left to their own devices, the companies competing to be the ones to upgrade to full-fibre first has meant an inefficient duplication of the network. Multiple companies are laying fibre to the same places in the most profitable locations. At the same time less profitable areas, especially more rural ones, are left without. Even a Tory minister interviewed after the announcement acknowledged that this would be an issue unsolvable by a capitalist market.
The announcement is in line with the policy of the Communication Worker's Union (CWU) that represents workers in BT and Openreach. The process of nationalisation needs to be done in collaboration with the workforce delivering the network.
It is essential that it is communicated to workers that there would be no redundancies, an improvement in pay, terms and conditions as well as a democratic say in how work is planned and delivered. This should be extended to communications workers not directly affected by the plans, who may have fears about how their jobs could affected by a take-over.
Furthermore, it should be made clear that workers who have been sold BT shares, or hold pensions invested in BT, will not lose out. But as for the main shareholders, they don't deserve a penny.
Nationalisation of broadband, and of all telecoms companies, with the democratic control of workers, would mean that decent broadband could be effectively planned and delivered to everyone. Delivering it for free would give workers some relief from rocketing household bills.
It should be paid for by increased taxes for the super-rich, but also by taking control of the enormous wealth at the top of society by nationalising the banks and using that wealth, as part of a democratically agreed plan, to invest in infrastructure to improve all our lives.