Link to this page: https://www.socialistparty.org.uk/issue/1071/30173
From The Socialist newspaper, 29 January 2020
End health and wealth divide - fight for our NHS
Alistair Tice, Socialist Party Yorkshire
Take a ride on the 83 bus across Sheffield and it takes ten years off your life! That's how long life expectancy falls travelling just ten miles from the wealthier parts of the city to the poorest.
And 'healthy life expectancy' - that is, without serious illness or disability - falls a staggering 20 years! These shocking statistics are repeated in every city and across the country, exposing the health inequalities in Tory Britain.
Boris Johnson now talks about 'levelling up' infrastructure. But his Conservative governments have spent the last ten austerity years racing our NHS to the bottom of international healthcare league tables.
All health experts agree that the NHS needs an annual increase in funding of 4% just to stand still. But the average over the last decade has been only 1.6%, meaning Britain now has the lowest health spending per person of the major western economies.
17,000 less beds than in 2010. 10,000 doctors short. 40,000 nurses short. 122,000 vacancies in social care.
A junior doctor writing in the Guardian says: "Without beds we can't admit new patients; without staff we can't treat patients; and without social care we can't discharge people.
"This is why our A&E departments, barometers of the overall health of the service, are on the brink of collapse with the worst waiting times in NHS history. Patients are waiting hours to be picked up by ambulances, and queues of ambulances are waiting hours to drop their patients off.
"More people have died waiting for care in ambulances or on A&E trolleys in the last four years than have died from terrorism in the UK in the last 50 years."
So what does the Tory health secretary propose? Move the goalposts - scrap the A&E waiting targets.
The NHS will never be safe in Tory hands. NHS staff and health campaigners must take matters into their own hands.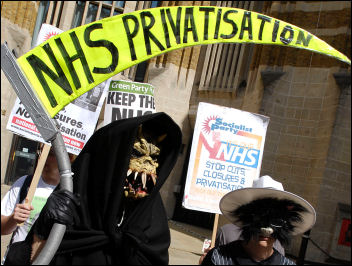 The Socialist Party's 'Grim Reaper', photo Paul Mattsson
The same junior doctor makes the call for all A&E staff to strike and protest for five minutes a shift. This points the way for NHS trade unions to take the lead in calling significant action. Like the nurses in Northern Ireland, whose recent, historic strike of 12 hours was joined by other hospital staff walking out for 24 hours.
The strike had overwhelming public support, and won significant concessions including on funding. Imagine what united national action could achieve.
Donate to the Socialist Party
Coronavirus crisis - Finance appeal
The coronavirus crisis has laid bare the class character of society in numerous ways. It is making clear to many that it is the working class that keeps society running, not the CEOs of major corporations.
The results of austerity have been graphically demonstrated as public services strain to cope with the crisis.
The government has now ripped up its 'austerity' mantra and turned to policies that not long ago were denounced as socialist. But after the corona crisis, it will try to make the working class pay for it, by trying to claw back what has been given.
The Socialist Party's material is more vital than ever, so we can continue to report from workers who are fighting for better health and safety measures, against layoffs, for adequate staffing levels, etc.
Our 'fighting coronavirus workers' charter', outlines a programme to combat the virus and protect workers' living conditions.
When the health crisis subsides, we must be ready for the stormy events ahead and the need to arm workers' movements with a socialist programme - one which puts the health and needs of humanity before the profits of a few.
Inevitably, during the crisis we have not been able to sell the Socialist and raise funds in the ways we normally would.
We therefore urgently appeal to all our viewers to donate to our special coronavirus appeal.
---
In The Socialist 29 January 2020:
---
What we think

No 'blank cheque' for Labour leadership candidates
---
News

End health and wealth divide - fight for our NHS

Unite union nominates Long-Bailey and Burgon

Coronavirus: capitalism limits response to viral outbreaks

HS2 debacle: nationalise rail and construction!

Johnson's Huawei internet deal underlines world trade tensions

Them & Us
---
Workplace news

University and College Union: Pensions, pay and conditions dispute reach a crucial stage

PCS union elections: Nominate candidates fighting austerity and for union democracy

Interview with a forestry worker

Westex carpet strike
---
Brexit and the economy

Brexit and British capitalism - why Johnson's juggernaut is set to jackknife
---
Stop the cuts

Fight the closure of Royal Glamorgan A&E

Save Hampden Nursery in Camden

We need socialists in London's City Hall

Unite regional committee votes to support anti-cuts Enfield councillor

Cuts to women's services cost lives
---
Campaigns

Socialist sellers: Opposing the Tories & fighting cuts

London protest against Modi's racist law
---
International news

Libya: Civil war and chaos follow interventions by world and regional powers

Trump's trashing of the environment - Dump the capitalist profit system!

CWI round-up
---
Readers' opinion

TV review: The Trial of Christine Keeler

The Socialist Inbox
---
Home | The Socialist 29 January 2020 | Join the Socialist Party
Subscribe | Donate | Audio | PDF | ebook
---