Link to this page: https://www.socialistparty.org.uk/issue/1072/30219
From The Socialist newspaper, 5 February 2020
Will the North get investment and transport infrastructure?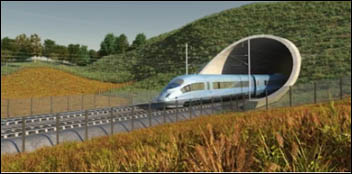 HS2 - The second high speed line in Britain - government advert
Tories promise the earth, but fail to deliver
Boris Johnson has pledged to earn the trust of working-class voters who 'lent' him their vote in the general election. One of his catchphrases is to 'level up' the Midlands and the North with increased investment earmarked for infrastructure.
After over a decade of austerity, can the Tories now be trusted by former Labour voters? Any promises given on improvements should be put in context of years of Tory neglect on transport infrastructure, which have taken their toll in these regions.
In the north of England, the average speed of trains between main cities is just 46mph. It takes longer to travel coast to coast in the North, than it takes to travel by Eurostar from London to Paris.
Tory governments have a track record of promising the earth, then failing to deliver. Past pledges of their intention to improve rail, road and bus links consistently fail to materialise.
2017 figures highlight the extent of neglect. Transport spending in London was more than all the areas of the Northern Powerhouse and Midlands Engine combined. If the North had received the same amount for transport per person as London, then £66 billion more would have flowed our way over the past decade.
Where will the money for increases in investment come from? The HS2 high-speed rail project could cost £106 billion - more than double the estimate from five years ago.
It will take years to complete and inevitably go over budget again. It will be the working class which pays the human cost - doing exhausting work on the lowest wages and conditions the Tories and their friends in big business can get away with.
The only way to really level up the conditions of working-class people is through the fight for socialism.
The majority of those who lent their votes to Johnson can be won over by a programme which includes fighting for the nationalisation of the railways, buses and transport infrastructure projects - all under democratic workers' control as part of a planned economy.
Elaine Brunskill, South Tyne and Wear Socialist Party
Donate to the Socialist Party
Finance appeal
The coronavirus crisis has laid bare the class character of society in numerous ways. It is making clear to many that it is the working class that keeps society running, not the CEOs of major corporations.
The results of austerity have been graphically demonstrated as public services strain to cope with the crisis.
The government has now ripped up its 'austerity' mantra and turned to policies that not long ago were denounced as socialist. But after the corona crisis, it will try to make the working class pay for it, by trying to claw back what has been given.
The Socialist Party's material is more vital than ever, so we can continue to report from workers who are fighting for better health and safety measures, against layoffs, for adequate staffing levels, etc.
When the health crisis subsides, we must be ready for the stormy events ahead and the need to arm workers' movements with a socialist programme - one which puts the health and needs of humanity before the profits of a few.
Inevitably, during the crisis we have not been able to sell the Socialist and raise funds in the ways we normally would.
We therefore urgently appeal to all our viewers to donate to our Fighting Fund.
---
In The Socialist 5 February 2020:
---
News

6.5 million working poor: Fight to end low pay

Labour leadership contest and public ownership

Coronavirus exposes capitalism's weaknesses in healthcare and economy

Record dissatisfaction with democracy: capitalism's dead end

Refuges turn away 64% of women - set no-cuts budgets now!

Grenfell watch: Unions challenge 'mockery of justice'

Them & Us
---
Rail

Nationalise the railways: For an integrated public transport system

Expensive, overcrowded and unreliable: Renationalise the railways!

Cancel the franchise, not our trains

Will the North get investment and transport infrastructure?
---
What we think

'Post-Brexit' era of crisis ahead
---
Workplace news

Huge victory for Bromley library workers after 241 days on indefinite strike!

14 more days of university strikes over pensions, pay and conditions

500 BBC journalists' jobs under threat

Newham council tax workers' pay victory

No to academisation of east London schools!

Ealing tax office workers strike against closure
---
NHS

Outrageous waiting times will put lives at risk

NHS: Save stroke beds in Coventry and Warwickshire
---
International

Syria: Assad regime consolidates power after brutal counterrevolution

Israel/Palestine: Trump 'peace plan' promises further conflict
---
Campaigns

Socialist Party calls anti-austerity protest on Budget Day

Sadiq Khan "out-Tories" himself to defend tech firms' tax bonanza

Socialist Sellers

Reading Labour council: Stop privatising our leisure services

The rich fund the Tories and Blairites, so help fund the working-class fightback

Support the working-class press in 2020

Defend and fight for warm, safe housing for Samira and everyone

Alternative Burns Night success
---
Readers' opinion

Liverpool council: "No more cuts" - Is Joe Anderson serious?

Socialist Inbox
---
Home | The Socialist 5 February 2020 | Join the Socialist Party
Subscribe | Donate | Audio | PDF | ebook
---