Link to this page: https://www.socialistparty.org.uk/issue/498/3063
From The Socialist newspaper, 9 August 2007
Railworkers strike for jobs and safety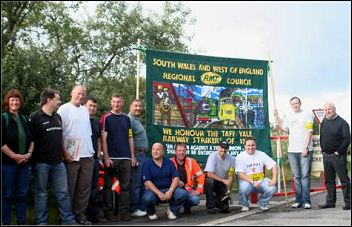 RMT strike in Wales, photo SPW
Around 20 members of the RMT union from South Wales and South West England joined a picket line at Corus steel works Margam to protest at plans by rail freight operator EWS to cut groundstaff by half.
Alec Thraves, Socialist Party Wales
RMT general secretary Bob Crow has called EWS's attitude to its staff at Margam as 'nothing short of a disgrace'. This was reflected on the picket line where RMT members taking 24 hour strike action condemned management's determination to cut costs and maximise profits regardless of risk to staff.
Despite the fact that only a small number of groundstaff are involved, the RMT is seriously concerned that by cutting their number from 18 to around half that number would lead to other workers being forced to carry out the arduous and dangerous shunting of heavy steel wagons under unsafe conditions.
Engineering staff at the depot are also being balloted for industrial action as it will be these workers who will be expected to cover the jobs of sacked workers.
Why not click here to join the Socialist Party, or click here to donate to the Socialist Party.
---
In The Socialist 9 August 2007:

Save our NHS: Stop fat cat robbery

"How many more will suffer?"

Occupation at Kendal ward

Blood Service restructuring chaos

Solidarity with health worker
---
Strike victory

Glasgow Social Care Workers win clear victory

Care workers stand firm (report 9/08/07)
---
Postal dispute

Solidarity with postal workers

Postal action round-up
---
Committee for a Workers' International

Exchanging socialist ideas worldwide
---
Socialist Party events

Come to the summer camp
---
Environment and socialism

Floods: Profits rise, workers pay
---
The State

Jean Charles de Menezes: Security forces not held to account
---
Workplace news

Railworkers strike for jobs and safety

Local government pay dispute - No to 2%!

Health and Safety : Bosses get away with murder
---
Tales from the council chambers

Campaigners force Labour councillors to back off
---
Welfare state

Welfare Green Paper: Making profit out of poverty
---
Home | The Socialist 9 August 2007 | Join the Socialist Party
---