Link to this page: https://www.socialistparty.org.uk/issue/1083/30659
From The Socialist newspaper, 22 April 2020
Bromley Libraries announce 'restructure' in the middle of pandemic!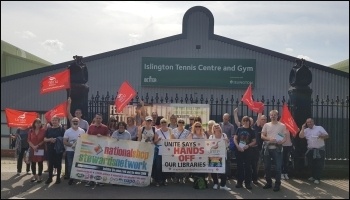 Bromley library workers protesting outside GLL tennis centre in Islington, supported by the NSSN and members of the Socialist Party, 21st August 2019, photo Isai Priya
Bromley Library workers are facing a restructure, including moving to new work locations, in the middle of this health emergency.
Their union Unite says the restructure has nothing to do with the health emergency - instead it's about the employer, Greenwich Leisure Limited, opportunistically using the health emergency to exert control in the workplace.
This follows the company's defeat at the hands of workers, and their union following indefinite strike action. The settlement included new posts, no compulsory redundancies, and backdated pay awards for those who had been underpaid. But the company is now trying to implement a 'reorganisation'.
Unite regional officer Onay Kasab says: "Our members working in Bromley Libraries have been told by this callous employer they face a restructure, a reorganisation. Bringing uncertainty and stress on top of what our members are having to cope with day in, day out. The restructure is completely and utterly unnecessary. We send a very loud and clear message to Greenwich Leisure Limited. Back off! There is no need for your restructure! The priority is people's safety!"
Donate to the Socialist Party
Finance appeal
The coronavirus crisis has laid bare the class character of society in numerous ways. It is making clear to many that it is the working class that keeps society running, not the CEOs of major corporations.
The results of austerity have been graphically demonstrated as public services strain to cope with the crisis.
The Socialist Party's material is more vital than ever, so we can continue to report from workers who are fighting for better health and safety measures, against layoffs, for adequate staffing levels, etc.
We must be ready for the stormy events ahead and the need to arm workers' movements with a socialist programme - one which puts the health and needs of humanity before the profits of a few.
Inevitably, during the crisis we have not been able to sell the Socialist and raise funds in the ways we normally would.
We therefore urgently appeal to all our viewers to donate to our Fighting Fund.
---
In The Socialist 22 April 2020:
---
Frontline workers speak out

Where's our PPE? Where's our testing? Where's our money?

London bus drivers' action over safety stops front door boarding

Care homes coronavirus scandal: blood on their hands

PPE shortages: "I feel so bloody angry"

Trade union activists from across the south of England discuss the battle for safety on the frontline

Management tells carers PPE would 'worry' residents

Councils must demand control of supplies and reversal of austerity

More dispatches from the front: 'There are so many more patients dying'
---
World economy

World economic crisis: A Marxist approach to the coronavirus crunch
---
Workplace news

No 'back to school' until outbreak is under control and trade union agreed safety arrangements

DWP: Action on workers' safety, and protection of pay and conditions needed

JD Sports: Shut up shop and give us full pay!

RMT: Lift the suspension of Steve Hedley

Bromley Libraries 'restructure' in middle of pandemic!
---
Lenin at 150

Lenin at 150: A revolutionary life - and the relevance of his ideas to today's working-class struggles
---
Coronavirus news

National plan for testing needed

Capitalist press attacks Tory incompetence

Tory think tank proposes attack on pensions

Shocking increase in domestic violence killings

US private healthcare system in meltdown

Coronavirus news in brief
---
Workplace safety

The history of struggle to make the workplace safe
---
Campaigns

Excellent support for Socialist Party special appeal

Why I joined the Socialist Party

Clapping, driving, postering - for workers' rights

The role of the Socialist during the corona crisis

Policies that really protect the NHS

Coronavirus: Students' charter

Socialism the Podcast: What do our listeners think?
---
Readers' opinion

Covid-19 patient speaks out: fantastic support from under-resourced health workers

Going viral: Socialist comments and letters
---
Home | The Socialist 22 April 2020 | Join the Socialist Party
Subscribe | Donate | Audio | PDF | ebook
---