Link to this page: https://www.socialistparty.org.uk/issue/1092/30966
From The Socialist newspaper, 24 June 2020
It's time to join the Socialist Party
New members explain why they have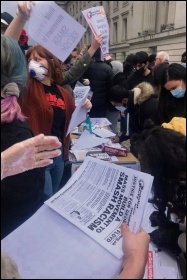 Queues to sign up to the Socialists at a Black Lives Matter protest in Birmingham, 4.6.20, photo by Lenny Shail (Click to enlarge)
Covid-19: Everyone I know hit by Tory failures
Eric Rickard, Plymouth Socialist Party
I've always been driven towards political activity by an aversion to injustice.
I concluded as a young teen that me and my loved ones' suffering was as a direct result of capitalism. Injustices were interwoven in my area, and I noticed the material impact that right-wing policies were having on the people around me.
At university in Cornwall I was involved with anarchist factions and the Green Party. After graduating I moved back to Plymouth, but became too ill to work or to assist the party, and had to put all my time and energy into recovery. While recovering I saw the political situation around me crumbling and my anger only rose.
During the Covid-19 crisis, everyone in my life has been negatively impacted due to the inadequacy of the government. One of my dearest loved ones became trapped in lockdown in an abusive household. Local services were completely powerless to help them under Tory regulation.
Another explained the mistreatment they were facing from their employer. They had no alternative but to put up with it. Everything their employer was doing was technically legal, and they couldn't afford to lose their job.
Others told me about healthcare they desperately needed but were unable to access. After years of seeing the NHS brutally underfunded, I felt I needed to do more to make material change.
I volunteered for the Albert Kennedy Trust, that helps young LGBTQ+ homeless people, joined climate change protests, and finally became a Socialist Party member. The imperative impulse to help improve life for everyone, not just an elite few - for all humans to coexist peacefully and prosperously - is the most significant motive I have in life. I recognise that involvement with the Socialist Party can help build a better future.
"We can only do so much alone"
Philip Nolan, Huddersfield Socialist Party
I joined the Socialist Party to strive for equality that does not exist in the UK. It is a regular perception that those who happen to earn less, those who are born into families that did not have the luck to be richer, are 'lesser'. Therefore, they should not be granted the basic requirements of life - daily nutritious meals and a roof over their heads.
They are forced into an unfeeling and uncaring bureaucratic system that fails to provide them with what they need. I saw the Socialist Party as a mechanism to work against this.
We can only do so much alone. I saw the Socialist Party as a group of people who could support me in our goal - to create a better society, not just for the rich or the politicians, but for everyone. To make sure that the working class and impoverished children are not seen as tools to wring dry, but as people with lives and souls that should be brought up and allowed to live out their potential, free from the restrictions imposed upon them.
The Socialist Party has proved to be an organisation fighting for the betterment of society. Rather than step back from politics, and only engage by voting every election, I chose to step forward and help make a better society.
Donate to the Socialist Party
Finance appeal
The coronavirus crisis has laid bare the class character of society in numerous ways. It is making clear to many that it is the working class that keeps society running, not the CEOs of major corporations.
The results of austerity have been graphically demonstrated as public services strain to cope with the crisis.
The Socialist Party's material is more vital than ever, so we can continue to report from workers who are fighting for better health and safety measures, against layoffs, for adequate staffing levels, etc.
We must be ready for the stormy events ahead and the need to arm workers' movements with a socialist programme - one which puts the health and needs of humanity before the profits of a few.
Inevitably, during the crisis we have not been able to sell the Socialist and raise funds in the ways we normally would.
We therefore urgently appeal to all our viewers to donate to our Fighting Fund.
---
In The Socialist 24 June 2020:
---
Socialist Party news and analysis

Lifting the lockdown: workers must not pay the price

Victory for Royal Glamorgan A&E!

Housing: act now to cancel Covid crisis rents and debt

Over 30% of children living in poverty

Fight back to stop Tories scrapping protections for children in care

International aid: Johnson's pie in the sky

Reading workers' movement responds to knife attack

News in brief

Them & us
---
Black Lives Matter

Young people fighting back: Jobs and homes, not racism

Lessons from the Black Panthers: "We're not going to fight capitalism with black capitalism - we're going to fight capitalism with socialism"

Towards an anti-racist school curriculum

Black Lives Matter protests: week three
---
International socialist news and analysis

South Africa: Building jobs and living wage campaign
---
Wales

Tories sinking in Wales but no enthusiasm for Welsh Labour
---
Workplace news and analysis

Why you should come to NSSN conference

Fully fund schools - stand firm on safety

P&O: defend every job - nationalise the ferries

Workers need a 'new deal' - at least £12 an hour now!

Renationalisation of the probation service
---
Campaigns

It's time to join the Socialist Party

Selling the Socialist: we're back!

Fighting fund: help us smash our target!

Call for an increase in PIP due to Covid-19
---
Readers' opinion

A timely read about a pandemic that overwhelms society

The Socialist inbox
---
Home | The Socialist 24 June 2020 | Join the Socialist Party
Subscribe | Donate | Audio | PDF | ebook
---