Link to this page: https://www.socialistparty.org.uk/issue/500/3104
From The Socialist newspaper, 6 September 2007
Strikers solid in London tubes stoppage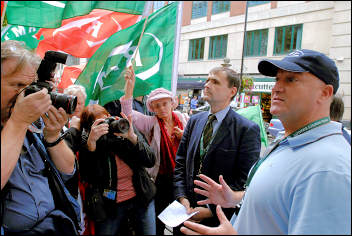 Bob Crow, RMT general secretary, speaks to the press during the Metronet strike in September 2007, photo Paul Mattsson
THE STRIKE on most of London's tube system, the parts previously maintained by the bankrupt Metronet company, has had a huge effect, causing chaos on the capital's transport system. The action, organised by rail union RMT, was continuing defiantly as we went to press. Gordon Brown has publicly condemned the strike. DICK GODFREY, RMT rep at the Northumberland Park depot spoke to Jane James of the socialist.
JJ: What do you need from the administrators to return to work?
DG: What they're offering is that there will be no staff cuts and transfers while they're in administration. But the RMT is looking for something beyond that.
We're looking for an agreement from the administrator and Metronet that even after administration we won't be forced to transfer to another private company.
And after administration there won't be a massive amount of job cuts. At the moment all they're offering us is up to the end of administration.
JJ: Is the strike solid?
Yes it is. There won't be anything running until 6pm on Thursday. Next week if the dispute isn't settled we'll be looking to do the same. And that will be solid as well. But if the company are prepared to sit round the table we're prepared to talk to them.
That's between the company and our general secretary. But at the moment what the company is offering is not good enough.
JJ: What is your attitude to privatisation?
We would like it taken back in house by London Underground or Transport for London. We certainly don't wish to be taken over by another private company.
Donate to the Socialist Party
Coronavirus crisis - Finance appeal
The coronavirus crisis has laid bare the class character of society in numerous ways. It is making clear to many that it is the working class that keeps society running, not the CEOs of major corporations.
The results of austerity have been graphically demonstrated as public services strain to cope with the crisis.
The government has now ripped up its 'austerity' mantra and turned to policies that not long ago were denounced as socialist. But after the corona crisis, it will try to make the working class pay for it, by trying to claw back what has been given.
The Socialist Party's material is more vital than ever, so we can continue to report from workers who are fighting for better health and safety measures, against layoffs, for adequate staffing levels, etc.
Our 'fighting coronavirus workers' charter', outlines a programme to combat the virus and protect workers' living conditions.
When the health crisis subsides, we must be ready for the stormy events ahead and the need to arm workers' movements with a socialist programme - one which puts the health and needs of humanity before the profits of a few.
Inevitably, during the crisis we have not been able to sell the Socialist and raise funds in the ways we normally would.
We therefore urgently appeal to all our viewers to donate to our special coronavirus appeal.
---
In The Socialist 6 September 2007:

Strike against public sector pay cap

Prison officers defy government's pay cap

Prison Officers' strike reports
---
Socialist Party workplace news

Strikers solid in London tubes stoppage

Swansea: Visteon strike threat brings concessions
---
Socialist Party NHS campaign

Defend Newcastle General Hospital

Sheffield Northern General Hospital bulk stores strike
---
Trades Union Congress

TUC conference resolutions need to lead to action

TUC conference fringe meeting
---
Socialist Party events

Socialism 2007 - a weekend of discussion and debate, hosted by the Socialist Party
---
Socialist Party news and analysis

Horror and heartbreak in Croxteth - What is the cause? What is the answer?

Massive deprivation in Norris Green, Liverpool
---
Socialist Party policy

The growing wealth gap
---
Education

Cardiff: More schools fight closures programme
---
Socialist Party Marxist analysis

'Agitate, educate, organise': the role of the workers' press
---
International socialist news and analysis

Greece is burning
---
Workplace news and analysis

Belfast Airport workers score a victory

Unison witch-hunt

Plymouth dockyard
---
Socialist Party reviews

Fela Kuti, revolutionary musician

'Holding Fire' by Jack Shepherd

Save the 'Westie' in Aldershot
---
Home | The Socialist 6 September 2007 | Join the Socialist Party
---