Link to this page: https://www.socialistparty.org.uk/issue/501/3107
From The Socialist newspaper, 13 September 2007
Postal workers
"We have the power!"
Sarah Sachs-Eldridge spoke to Jason, a postal worker from east London, as negotiations between Royal Mail and the Communication Workers Union have broken down. It is clear Royal Mail intend to impose cuts in working conditions. The union has announced that it will declare further strikes before the end of September.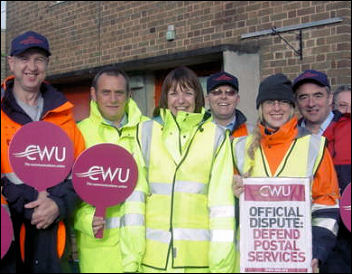 Postal workers on strike, photo Socialist Party
"We've already given up £240 in hard cash in the last strike and people will be asking 'If I sacrifice more will I get a deal?' But you've got to realise that we do have the power, especially when it's approaching Christmas.
The work will pick up after the quiet summer months. They'll be under twice as much pressure. They've already been fined by Postwatch for not meeting targets.
They pay so much to Crozier [Royal Mail chief executive]- it's a kick in the teeth. If there really is no money he should refuse it. But he grabs it and says 'sorry lads' - that gets people annoyed.
There was such a backlog of mail from the last strike that they couldn't even get into the mail centres. It was at that point that they decided to talk.
At first I thought that was the right thing to do. Now we know it wasn't the best thing. We started to talk but at the same time they slipped in changes to our shifts which mean we lose money. They had no intention to talk, they just wanted to ease the pressure.
As far as Labour is concerned you've got to wash your hands of them and move elsewhere. Brown told Leighton [Royal Mail chairman] and Crozier to stand firm. He's the enemy and you have to wash your hands of him. In my office if you talk to reps who are clued up, they know how we're being stitched up.
Since our dispute started, whenever I hear the word strike I think good! When I heard about the prison officers I thought 'they're pissed off as well - just get out there and strike'.
The more people who strike will give confidence to others to strike. If you get a good deal it'll send the message that it's worth fighting back. You should not accept the piss-taking amount they're offering and you do have to strike!"
---
>
Burslem postal workers walk out
Postal workers at Burslem delivery office in Stoke walked out on 11 September when twelve workers were suspended on trumped-up charges of suspicion of harassment.
The twelve were kept for hours in the canteen surrounded by Royal Mail security staff.
It is no accident that this comes only two days after Royal Mail management pulled out of national pay talks declaring, "the period of calm is over".
Why not click here to join the Socialist Party, or click here to donate to the Socialist Party.
---
In The Socialist 13 September 2007:

Fighting Unions Need a New party

Postal workers: "We have the power!"

TUC conference: Standing up to Brown's attacks

Needed: a combative trade union movement
---
War and terrorism

Iraq: Get the troops out now
---
Workplace news and events

Tube workers' strike scores victory

Bosses get away with murder
---
Socialist Party NHS campaign

Nurses strike

Manchester cuts maternity services

Leeds - no more deficits and cuts
---
APEC summit

APEC summit: Thousands defy police crackdown
---
Socialist Party news and analysis

Overcrowded prisons, overworked staff

Keeping tabs on the millions?

A life of debt and poverty?
---
Socialist Party feature

Tory party struggles to recapture territory taken by New Labour
---
International news and analysis

Impressions of China
---
Socialist Party review

Robert Blincoe - a life that illuminates an age
---
Home | The Socialist 13 September 2007 | Join the Socialist Party
---