Link to this page: https://www.socialistparty.org.uk/issue/1095/31077
From The Socialist newspaper, 15 July 2020
Tower Hamlets council workers strike back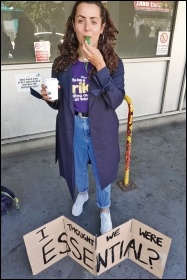 Tower Hamlets council workers struck against contract downgrades on 3, 6, 7 and 15-17 July 2020, photo by Hugo Pierre (Click to enlarge)
Hugo Pierre, Unison union national executive council (personal capacity)
Unison union members working for Tower Hamlets Labour-run council were sacked on 6 July, while taking their second day of branch-wide strike action, and re-engaged on worse terms and conditions.
The right-wing Labour mayor, John Biggs, is forcing changes to long-standing agreements with the council's trade unions.
The first tranche of strikes on 3, 6 and 7 July were very well supported by lively and upbeat picket lines, especially as a lot of council staff were working from home. Masks, social distancing and limits on material that could be handed out, didn't stop strikers from getting a lot of support from the public passing by. A lot of car drivers tooted their horns in support.
On one picket line, bin workers, Unite union members, refused to cross picket lines. They had recently taken strike action themselves against non-payment of wages against their employer, Veolia. Now they have been taken back in-house by the council, and could be affected by the new contract in the future.
Mayor Biggs, received a petition from hundreds of Labour Party members locally calling on him to back off implementing the proposals. Instead of organising a democratic debate among party members, who would then be allowed to decide what the mayor should do, he has desperately written to them with 'data manipulation, obstruction and obfuscation' to defend his position.
The council has faced a halving of its government funding since 2010 as part of Tory austerity. The mayor has chosen to abandon leading any fight against these cuts. He has even perversely used millions of pounds the council has saved in reserves over the last few years to paper over cracks in funding rather than use them boldly to defend services while building a mass campaign to fight for the lost millions.
Tower Hamlets desperately needs this. It is the London borough with the highest rates of child poverty, despite having the mega-rich Canary Wharf banks and finance centre sited within its boundaries.
Instead, Biggs plans to make £2 million savings each year from the new employment contracts.
The strikers are incensed that during the Covid-19 pandemic the council has referred to them as "heroes" and "key workers" only to be re-employed on inferior terms and conditions.
Donate to the Socialist Party
Finance appeal
The coronavirus crisis has laid bare the class character of society in numerous ways. It is making clear to many that it is the working class that keeps society running, not the CEOs of major corporations.
The results of austerity have been graphically demonstrated as public services strain to cope with the crisis.
The Socialist Party's material is more vital than ever, so we can continue to report from workers who are fighting for better health and safety measures, against layoffs, for adequate staffing levels, etc.
We must be ready for the stormy events ahead and the need to arm workers' movements with a socialist programme - one which puts the health and needs of humanity before the profits of a few.
Inevitably, during the crisis we have not been able to sell the Socialist and raise funds in the ways we normally would.
We therefore urgently appeal to all our viewers to donate to our Fighting Fund.
---
In The Socialist 15 July 2020:
---
Socialist Party news and analysis

Workers and young people need planning for jobs, not handouts for bosses

Lockdown Leicester: trade unionists and parents fight for safety

Sexist dismissal of women's health: NHS needs democratic control

Palace letters show the monarchy is a weapon for capitalism

Defend free TV licences for pensioners!

Water shortage warning: nationalise now!

Hillingdon Hospital corona outbreak: workforce not to blame
---
No going back

A socialist programme for schools
---
Workplace news and analysis

A fighting programme for Unite

PCS executive majority cancels union democracy

'Hands off our pensions!' demand angry Nissan workers

Tower Hamlets council workers strike back

Ratcliffe rats on Bridgend workers
---
Socialist history

How capitalist restoration led to war and 'ethnic cleansing' in the Balkans
---
Black Lives Matter

How the FBI and Chicago police murdered a Black Panther

Will boosting the 'black pound' improve black workers' lives?

BLM protests - another injustice exposed
---
Readers' opinion

Books that inspired me: The Mother

TV: Ross Kemp - Living with Forced Out Families
---
Socialist Party reports and campaigns

Jobs, homes, services and a future for all!

Socialism 2020 - ideas to change the world

Nottingham trans rights protest: Our demands are the same as everyone's

Why I joined the Socialist Party

Donations help us campaign and fight for socialism

Selling the Socialist in Swansea
---
Home | The Socialist 15 July 2020 | Join the Socialist Party
Subscribe | Donate | Audio | PDF | ebook
---