Link to this page: https://www.socialistparty.org.uk/issue/501/3114
From The Socialist newspaper, 13 September 2007
Manchester cuts maternity services
HALF A million objections, millions of £s in "consultation", an "independent" review and a few months for Health Secretary Johnson to think it over... and the upshot is what the bosses wanted anyway.
Hugh Caffrey and Lynn Worthington
Care for premature babies will close at most Greater Manchester hospitals, save only over-night or stabilisation cots, and be concentrated at three "super-centres". Cuts to maternity services will only profit private companies who own NHS buildings and who, before long, will probably run the "super-centres".
Destroying vital mother and baby services will eventually affect every family in Greater Manchester. It is unlikely there will be as many beds in the "super-centres" as there are in hospital units now. Every privately built facility we know of has meant less beds.
Most people will have to travel far further to get to hospital. The government talks about helping pregnant mums, but these government-sanctioned cuts put mothers and babies at risk.
Premature baby charity BLISS has exposed how too few beds too far apart already means the tragic loss of day-old lives. With too few staff and services further reduced, this will only get worse.
Privatised hospital cleansing services and deregulated 'public' transport means people take longer to travel further, to be at risk of super-bugs like MRSA when they eventually get to hospital.
Patients and the wider community need to organise as part of a mass movement to save what's left of the health service, and fight for its rebuilding.
The unions should be organising staff to fight against cuts. A lead from the unions on the 3 November national demonstration would give staff the confidence to oppose management bullies, and inspire communities to back them.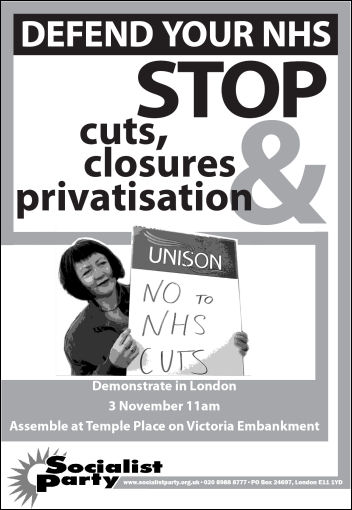 Socialist Party NHS leaflet
Socialist Party members, like many others, are building the November demonstration. But not one Manchester councillor or MP has fought these cuts. That's one reason why we want to contest next year's council elections in Manchester. We need a political alternative to the three main parties, to give a campaigning lead on issues like stopping the NHS being destroyed.
Socialist Party leaflet pdf (500K)
Donate to the Socialist Party
Coronavirus crisis - Finance appeal
The coronavirus crisis has laid bare the class character of society in numerous ways. It is making clear to many that it is the working class that keeps society running, not the CEOs of major corporations.
The results of austerity have been graphically demonstrated as public services strain to cope with the crisis.
The government has now ripped up its 'austerity' mantra and turned to policies that not long ago were denounced as socialist. But after the corona crisis, it will try to make the working class pay for it, by trying to claw back what has been given.
The Socialist Party's material is more vital than ever, so we can continue to report from workers who are fighting for better health and safety measures, against layoffs, for adequate staffing levels, etc.
Our 'fighting coronavirus workers' charter', outlines a programme to combat the virus and protect workers' living conditions.
When the health crisis subsides, we must be ready for the stormy events ahead and the need to arm workers' movements with a socialist programme - one which puts the health and needs of humanity before the profits of a few.
Inevitably, during the crisis we have not been able to sell the Socialist and raise funds in the ways we normally would.
We therefore urgently appeal to all our viewers to donate to our special coronavirus appeal.
---
In The Socialist 13 September 2007:

Fighting Unions Need a New party

Postal workers: "We have the power!"

TUC conference: Standing up to Brown's attacks

Needed: a combative trade union movement
---
War and terrorism

Iraq: Get the troops out now
---
Workplace news and events

Tube workers' strike scores victory

Bosses get away with murder
---
Socialist Party NHS campaign

Nurses strike

Manchester cuts maternity services

Leeds - no more deficits and cuts
---
APEC summit

APEC summit: Thousands defy police crackdown
---
Socialist Party news and analysis

Overcrowded prisons, overworked staff

Keeping tabs on the millions?

A life of debt and poverty?
---
Socialist Party feature

Tory party struggles to recapture territory taken by New Labour
---
International news and analysis

Impressions of China
---
Socialist Party review

Robert Blincoe - a life that illuminates an age
---
Home | The Socialist 13 September 2007 | Join the Socialist Party
---