Link to this page: https://www.socialistparty.org.uk/issue/501/3115
From The Socialist newspaper, 13 September 2007
Leeds - no more deficits and cuts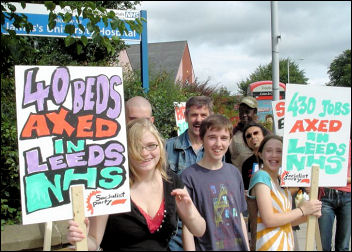 A protest in Leeds against Health cuts
OVER THREE years, there have been big cuts in every hospital making up Leeds Teaching Hospital NHS Trust. Many wards were closed, over 200 beds lost and up to 1,000 jobs lost by not replacing leaving staff.
Alan Turner, Leeds Socialist Party
The trust has a £50 million deficit, which has to be cut in the two financial years from April 2007. So far the axe has fallen at Chapel Allerton hospital where three wards have closed since April with many beds lost.
Patients and staff welcomed plans to reorganise heart and respiratory services on single sites, but both cardiology wards 6 and 7 have shut in the process at St James Hospital with the loss of 40 beds. The old part of Leeds General Infirmary (LGI) is being completely closed, to be sold off with its grounds for development with six wards and many beds lost.
Already part of Leeds NHS Trust has been turned over to the private sector through PFI schemes. The oncology ward at St James', due to be the biggest in Europe when it opens next April, has been built with PFI money costing a staggering £26 million a year for the next 30 years!
PFI goes hand in hand with deficits and cuts due to the huge yearly payments involved. Leeds NHS Trust has had three years of deficits and cuts already. We cannot accept any more.
Join the demo - 3 November
THE NATIONAL trade union-led demonstration for the health service on 3 November cannot come quickly enough for NHS campaigners. It is true that, as the union leaders say, we need to celebrate the creation of a publicly owned NHS, free at the point of use.
But the protest's main aim must be to defend the NHS against privatisation and marketisation, otherwise there will be no NHS left to celebrate as it reaches its 60th birthday next year.
The demo needs to support health workers in their fight against cuts in jobs and services and should also be a springboard towards launching a new workers' party.
Donate to the Socialist Party
Coronavirus crisis - Finance appeal
The coronavirus crisis has laid bare the class character of society in numerous ways. It is making clear to many that it is the working class that keeps society running, not the CEOs of major corporations.
The results of austerity have been graphically demonstrated as public services strain to cope with the crisis.
The government has now ripped up its 'austerity' mantra and turned to policies that not long ago were denounced as socialist. But after the corona crisis, it will try to make the working class pay for it, by trying to claw back what has been given.
The Socialist Party's material is more vital than ever, so we can continue to report from workers who are fighting for better health and safety measures, against layoffs, for adequate staffing levels, etc.
Our 'fighting coronavirus workers' charter', outlines a programme to combat the virus and protect workers' living conditions.
When the health crisis subsides, we must be ready for the stormy events ahead and the need to arm workers' movements with a socialist programme - one which puts the health and needs of humanity before the profits of a few.
Inevitably, during the crisis we have not been able to sell the Socialist and raise funds in the ways we normally would.
We therefore urgently appeal to all our viewers to donate to our special coronavirus appeal.
---
In The Socialist 13 September 2007:

Fighting Unions Need a New party

Postal workers: "We have the power!"

TUC conference: Standing up to Brown's attacks

Needed: a combative trade union movement
---
War and terrorism

Iraq: Get the troops out now
---
Workplace news and events

Tube workers' strike scores victory

Bosses get away with murder
---
Socialist Party NHS campaign

Nurses strike

Manchester cuts maternity services

Leeds - no more deficits and cuts
---
APEC summit

APEC summit: Thousands defy police crackdown
---
Socialist Party news and analysis

Overcrowded prisons, overworked staff

Keeping tabs on the millions?

A life of debt and poverty?
---
Socialist Party feature

Tory party struggles to recapture territory taken by New Labour
---
International news and analysis

Impressions of China
---
Socialist Party review

Robert Blincoe - a life that illuminates an age
---
Home | The Socialist 13 September 2007 | Join the Socialist Party
---