Link to this page: https://www.socialistparty.org.uk/issue/502/3128
From The Socialist newspaper, 20 September 2007
Break with Labour
Time for a new party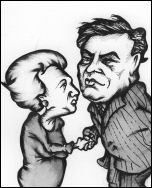 Thatcher & Brown
The new merged union 'Unite' is leading a lobby of Labour Party conference on Sunday 23 September. A whole list of grievances will be presented to the Labour leadership in defence of the rights of working people. But millions of trade union members will be asking, how can the big unions still remain handcuffed to New Labour, in the face of its pro-business agenda?
Rob Williams, Unite convenor, Swansea Visteon plant, personal capacity
These union general secretaries correctly denounced Brown for his 'meet and greet' session with Thatcher. Aware of the disgust that workers will have felt looking at the pictures, they embarrassingly rushed out statements attacking Brown.
Yet the very same leaders refuse to carry those sentiments through to their logical conclusion - stop giving millions of our union subs to New Labour and launch a new mass workers' party. Thatcher called the miners "the enemy within" and is now paraded by a Labour prime minister in front of No.10.
Of course, New Labour prime ministers, like Thatcher herself, are war leaders as well. Millions live in poverty but billions are spent in the illegal war and occupation of Iraq and Afghanistan.
Tens of thousands of miners and steelworkers were sacked by Thatcher, just as Brown announced over 100,000 civil servants losing their jobs live on TV when he was chancellor. Yet the union leaders have been doing their best to try and persuade us that Brown is different to Blair. But he is an architect of the New Labour regime.
He is planning to remove the last vestiges of democracy and trade union representation from the already neutered Labour Party conference. Why do we need to waste more time and money? We need to cut the links with Labour now.
The trade unions are campaigning to get the Trade Union Freedom Bill passed. The anti-trade union laws were used to defeat the miners and the printers at Wapping. Yet these laws remain today, even after ten years of a Labour government.
Surely, if Labour MPs don't deliver yet again, the penny needs to drop, lets cut the links and launch a new party that can link together the millions that have opposed this government, from the anti-war protestors to the anti-NHS cuts campaigners.
Donate to the Socialist Party
Coronavirus crisis - Finance appeal
The coronavirus crisis has laid bare the class character of society in numerous ways. It is making clear to many that it is the working class that keeps society running, not the CEOs of major corporations.
The results of austerity have been graphically demonstrated as public services strain to cope with the crisis.
The government has now ripped up its 'austerity' mantra and turned to policies that not long ago were denounced as socialist. But after the corona crisis, it will try to make the working class pay for it, by trying to claw back what has been given.
The Socialist Party's material is more vital than ever, so we can continue to report from workers who are fighting for better health and safety measures, against layoffs, for adequate staffing levels, etc.
Our 'fighting coronavirus workers' charter', outlines a programme to combat the virus and protect workers' living conditions.
When the health crisis subsides, we must be ready for the stormy events ahead and the need to arm workers' movements with a socialist programme - one which puts the health and needs of humanity before the profits of a few.
Inevitably, during the crisis we have not been able to sell the Socialist and raise funds in the ways we normally would.
We therefore urgently appeal to all our viewers to donate to our special coronavirus appeal.
---
In The Socialist 20 September 2007:

Nationalise the banks

Economy hits a rock

Crisis will hit north east jobs

Time for a new party
---
Socialist Students

Fight for a living grant

What do youth think?

Student Socialist: Issue 5 out now!

Studying on a low wage

Flexible hours? Suits you sir!
---
Socialist Party NHS campaign

NHS: Our message to Labour

Swansea - no more cuts for cash
---
Socialist Party news

Victory! Campaign saves nursery

Medway schools

Lobby demands asylum for Sadiq
---
Socialism 2007

Socialism 2007

Make Socialism 2007 an unforgettable weekend
---
TUC Conference

TUC conference: Workers defy Brown

Linking the struggles together
---
International socialist news and analysis

Egypt: Worker militancy shows pressing need for political voice
---
Socialist Party review

Consumed: How markets corrupt children, infantilise adults and swallow citizens whole
---
Workplace news and analysis

Remploy workers fight for jobs

Defend the Burslem 12

CWU: Further national action discussed
---
Home | The Socialist 20 September 2007 | Join the Socialist Party
---