Link to this page: https://www.socialistparty.org.uk/issue/1100/31307
From The Socialist newspaper, 13 July 2020
15% now - unions must fight for NHS pay rise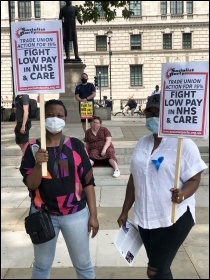 Demanding a 15% pay rise for NHS workers, 8th August 2020, London, photo Sarah SE (Click to enlarge)
Maggie Fricker, NHS worker, Southampton Socialist Party
NHS workers need a pay rise now. And we need our unions to launch a real fight for it.
I've been at my hospital trust for over 20 years and I'm proud to call myself a health worker. Every day I see workmates witness trauma and tragedy and keep going.
Many of my colleagues are young and just starting out - they are newly qualified, new to post, or new to the country. They have the pressures of learning a new job and making a good impression at work, while trying to find affordable accommodation and pay the bills.
At the best of times it's a struggle. But in the last months, health workers have been hit square in the face with this life-changing pandemic.
The responsibility on so many of our shoulders has taken its toll, and the scares are very real. Workers in our communities have shown their appreciation - they have clapped us, and at times they have fed us.
Proud
We've continued coming to work - despite the fear, the inadequate PPE, the long hours and the constantly changing rules. I could not be more proud of those I work with - but we are not angels.
We are angry at the stupidity of this government, and the greed and incompetence of the private hospitals and contractors we have to work with. So it's time for us to turn that anger into action.
Our union leaders are well aware that we are bitter over the poor pay deal they made three years ago, which this year left us with a below-inflation pay rise. It's high time for them to listen to the grassroots. Put a figure on it - demand 15% now!
We need to make our voices heard, take to the streets, be seen, and support the day of action on Saturday 12 September. But this is only the beginning of this struggle.
It's very clear the Tories are not listening. If we want decent pay and conditions and full funding, NHS workers need to take strike action. I believe we are ready for it.
We must now demand the health unions organise a strike ballot. It's time we hit the Tories back. If we back down on this fight, it will be a green light to speed up the wholesale sell-off of what remains of the services we hold dear.
The Socialist Party demands:
An immediate 15% pay rise for all health and care staff including those in privatised sectors. Minimum wage of £12 an hour - £15 in London. Scrap zero-hour contracts immediately
Reverse all privatisation and PFI debts. For a fully nationalised and publicly funded NHS and social care sector, with full collective bargaining and national terms and conditions
Reinstate student bursaries, and scrap all tuition fees and debts
Scrap immigration fees charging NHS trusts and care homes to employ essential workers
A socialist NHS - democratically run by elected and accountable committees, including service workers and users
We can't trust pro-privatisation, pro-austerity, anti-working-class politicians. Fight for the building of a new, mass workers' party!
---
I will be campaigning for Unison to call mass action for fully funded pay rises now. I have proposed to the union's health service group executive that they should be considering a 15% pay claim. The leadership should also be calling the other health unions to try to agree a joint claim. And Unison should instruct branches to start preparing the ground for a strike ballot to win the claim. NHS workers have had enough, and need their union to lead the fight!
Hugo Pierre, Unison national executive council (personal capacity) and Socialist Party member
Donate to the Socialist Party
Coronavirus crisis - Finance appeal
The coronavirus crisis has laid bare the class character of society in numerous ways. It is making clear to many that it is the working class that keeps society running, not the CEOs of major corporations.
The results of austerity have been graphically demonstrated as public services strain to cope with the crisis.
The government has now ripped up its 'austerity' mantra and turned to policies that not long ago were denounced as socialist. But after the corona crisis, it will try to make the working class pay for it, by trying to claw back what has been given.
The Socialist Party's material is more vital than ever, so we can continue to report from workers who are fighting for better health and safety measures, against layoffs, for adequate staffing levels, etc.
Our 'fighting coronavirus workers' charter', outlines a programme to combat the virus and protect workers' living conditions.
When the health crisis subsides, we must be ready for the stormy events ahead and the need to arm workers' movements with a socialist programme - one which puts the health and needs of humanity before the profits of a few.
Inevitably, during the crisis we have not been able to sell the Socialist and raise funds in the ways we normally would.
We therefore urgently appeal to all our viewers to donate to our special coronavirus appeal.
---
In The Socialist 13 July 2020:
---
Coronavirus news

Fight the schools Covid crisis

Safety overridden in drive to bolster the economy

Caerphilly lockdown puts profits before safety

Under the microscope
---
Campaigns and party news

Jobs, training, pay, we want a future!

Dover: Solidarity with refugees - applause and cheers for socialist ideas to unite working class

BLM: Socialist alternative to racist capitalism

Big push to hit finance target
---
News

15% now - unions must fight for NHS pay rise

Callous Tories threaten not to uprate the minimum wage

XR blockade: Don't let the Tories criminalise protest

Grenfell fire inquiry stops victims attending

Video game developer attacks Black Lives Matter
---
What we think

U-turn Tories' splits are growing
---
Workplace news

Fight Amazon's anti-union spies

NSSN rally: Workers must not pay the price of Covid

Nottingham City Council: The (mis)adventures of Robin Hood Energy

Covid-19 pandemic increases financial pressures on Welsh local government

Ireland: Debenham's workers occupy stores

Hull: Defend Tony Smith!

Reinstate Richie Venton
---
Unison

A critical election for Unison general secretary
---
TUSC

Back at work! TUSC to stand in elections again against pro-austerity politicians
---
International news

Belarus: Mass opposition continues to defy repression by Lukashenko's regime

Strike wave marks new stage in revival of Iranian workers' movement
---
Home | The Socialist 13 July 2020 | Join the Socialist Party
Subscribe | Donate | Audio | PDF | ebook
---