Link to this page: https://www.socialistparty.org.uk/issue/502/3137
From The Socialist newspaper, 20 September 2007
Swansea - no more cuts for cash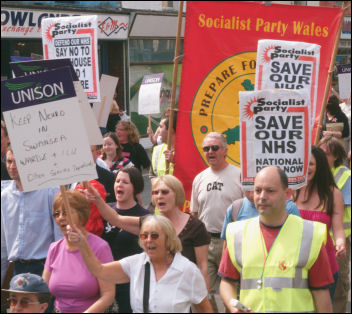 Marching through Swansea to save NHS services, photo Socialist Party Wales
SWANSEA NHS Trust has announced the closure of 86 beds and plans to shed 742 jobs, almost half of them nursing posts. This carries on the Trust's 'Cuts for Cash' strategy where staff and patients are expected to pay the price for getting the Trust bank balance back into the black.
Alec Thraves, Swansea Socialist Party
The Trust aims to save £15.5 million over the next year but, despite their denials, it will be at the expense of patient care. Health workers are angry at these most recent attacks, proposed without any consultation with the unions.
After massive opposition to its health reorganisation plans, the Welsh Assembly government was forced to call a moratorium and conduct a review but proposals such as these show that the fight to defend our NHS must be stepped up in Swansea and throughout Wales.
Socialist Party members will be joining with UNISON members, other trade unionists and NHS campaigners to ensure that these latest round of cuts are defeated.
Why not click here to join the Socialist Party, or click here to donate to the Socialist Party.
---
In The Socialist 20 September 2007:

Nationalise the banks

Economy hits a rock

Crisis will hit north east jobs

Time for a new party
---
Socialist Students

Fight for a living grant

What do youth think?

Student Socialist: Issue 5 out now!

Studying on a low wage

Flexible hours? Suits you sir!
---
Socialist Party NHS campaign

NHS: Our message to Labour

Swansea - no more cuts for cash
---
Socialist Party news

Victory! Campaign saves nursery

Medway schools

Lobby demands asylum for Sadiq
---
Socialism 2007

Socialism 2007

Make Socialism 2007 an unforgettable weekend
---
TUC Conference

TUC conference: Workers defy Brown

Linking the struggles together
---
International socialist news and analysis

Egypt: Worker militancy shows pressing need for political voice
---
Socialist Party review

Consumed: How markets corrupt children, infantilise adults and swallow citizens whole
---
Workplace news and analysis

Remploy workers fight for jobs

Defend the Burslem 12

CWU: Further national action discussed
---
Home | The Socialist 20 September 2007 | Join the Socialist Party
---