Link to this page: https://www.socialistparty.org.uk/issue/502/3140
From The Socialist newspaper, 20 September 2007
Lobby demands asylum for Sadiq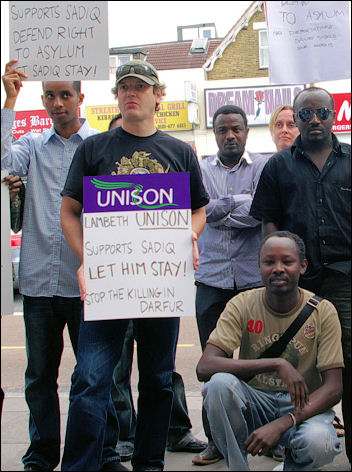 Save Sadiq: Lobby demands asylum for Sadiq, photo Jack Royston
ABOUT 30 people lobbied Keith Hill MP's surgery in Lambeth on 15 September calling for asylum for Sadiq Abakar, a refugee from the Darfur war zone.
Keith Hill met a delegation who raised the question of the Home Office colluding with the Sudanese authorities in deporting Darfur refugees. The MP responded that he would look into these 'very serious' allegations. Sadiq also complained at the threat of being tagged for no crime. Mr Hill replied that he was unaware that this happened to asylum seekers.
The delegation presented evidence provided by a Channel 4 reporter who frequently travels in Darfur. He confirmed Sadiq's claims of the danger he would face on return. The evidence also confirmed the murder of Sadiq's father by the Janjaweed militia.
Keith Hill said he had already done a lot for Sadiq although, amazingly, he reported that he was unaware that he came from Darfur.
Over 1,000 people have now signed a petition for Sadiq. Local trade unions back his campaign as do many others. Sadiq's case is strong but the asylum system is difficult to move. Sadiq has had two cases refuted, he is on his third.
The campaign has pledged that the next time he registers as an asylum seeker he will not do so alone.
Email/fax/phone Liam Byrne, Immigration minister. Fax 0207 035 4745. Sadiq's reference is A1110696.
Sign the petition online. www.savesadiq.t83.net Send messages of support to
savesadiq@hotmail.co.uk
Why not click here to join the Socialist Party, or click here to donate to the Socialist Party.
---
In The Socialist 20 September 2007:

Nationalise the banks

Economy hits a rock

Crisis will hit north east jobs

Time for a new party
---
Socialist Students

Fight for a living grant

What do youth think?

Student Socialist: Issue 5 out now!

Studying on a low wage

Flexible hours? Suits you sir!
---
Socialist Party NHS campaign

NHS: Our message to Labour

Swansea - no more cuts for cash
---
Socialist Party news

Victory! Campaign saves nursery

Medway schools

Lobby demands asylum for Sadiq
---
Socialism 2007

Socialism 2007

Make Socialism 2007 an unforgettable weekend
---
TUC Conference

TUC conference: Workers defy Brown

Linking the struggles together
---
International socialist news and analysis

Egypt: Worker militancy shows pressing need for political voice
---
Socialist Party review

Consumed: How markets corrupt children, infantilise adults and swallow citizens whole
---
Workplace news and analysis

Remploy workers fight for jobs

Defend the Burslem 12

CWU: Further national action discussed
---
Home | The Socialist 20 September 2007 | Join the Socialist Party
---