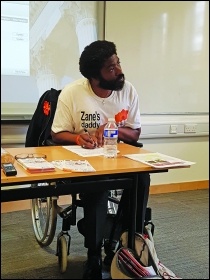 Zane's father Kye was paralysed in the toxic incident that killed Zane, photo Socialist Party (Click to enlarge: opens in new window)
Josh Asker, Socialist Party national committee
Cracks are beginning to appear in the state's cover-up of the death of seven-year-old Zane Gbangbola. Flooding in 2014 led to high concentrations of hydrogen cyanide entering the Gbangbola family home – killing Zane, and paralysing his Dad, Kai.
For seven years the family and supporters have campaigned for justice. The state has continued to deny hydrogen-cyanide poisoning as the cause of death.
In September, Spelthorne borough council faced a vote on a motion, moved by the campaign, calling for an independent inquiry into Zane's death. The Tory-led council had, for the last seven years, been part of the wall of denial from the establishment.
The council continued, until the last moments before the vote, to deny hydrogen cyanide as the cause of Kai's disability. Faced with hundreds of viewers on Zoom, 110,000 signatures on a petition, and overwhelming medical evidence, they could find no way out.
The council voted unanimously to lobby the government for an independent inquiry. The council now formally agrees that the coroner was part of a cover-up.
The case shows the length that the capitalist state will go to protect the interests of capitalists and the rich. But they didn't factor in the determination of the campaign, or the support from the wider trade union and workers' movement.
The Tory representatives of the capitalists on Spelthorne borough council have cracked under pressure. This pressure must continue and the fight goes on for an independent inquiry.
21 October 2020 would have been Zane's 14th birthday. There is a meeting from 7-8pm on Zoom in commemoration. A recording can be viewed by visiting truthaboutzane.com.