Link to this page: https://www.socialistparty.org.uk/issue/1118/31914
From The Socialist newspaper, 27 January 2021
DVLA Covid outbreak: They only care about output and productivity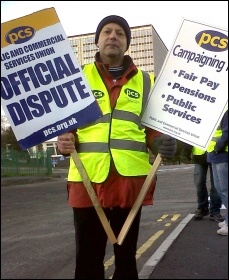 Dave Warren when he was PCS rep Swansea DVLA, taking part in a PCS National day of protest on 30 November 2012, photo R. Job (Click to enlarge)
Dave Warren, Swansea and West Wales Socialist Party
As a former worker at the Driver and Vehicle Licensing Agency (DVLA), I have not been surprised by reports of hundreds of Covid cases among staff. This is a massive government complex, spread over two main sites in Swansea, employing around 5,000 people.
While many are working from home, most of those in lower grades are having to attend work. Outdated IT systems cannot be adapted for homeworking.
Attending work involves using buses in many cases. As in any large office building, everyone knows how easily even ordinary viruses like colds can spread. But Covid puts a new and deadly slant on an old problem.
Sickness punished
The overriding ethos of DVLA is to maintain output and productivity. Its attitude towards everything else, including health and safety, is coloured by this. Sick absence is punished in the same way as misconduct, with formal warnings and dismissal.
In the first lockdown, the chief executive told staff in a circular that they were key workers and should attend work. When workers then attempted to place their children in schools, they were told they were not recognised as key workers, and the schools could not accept their children.
A week or so later, HR sent out another circular explaining that they were working on a list who would be required to attend work. Eventually, some workers were allowed to stay home on full pay, but this time around these same workers are now being forced to attend work.
The safety of workers cannot be trusted to DVLA or any other government department or agency. The workers themselves should democratically decide on health and safety procedures, and what is considered 'essential work'.
Mark Serwotka, general secretary of the workers' union PCS, says he has intervened with government ministers regarding DVLA. But more is needed. PCS must give a lead now and take collective action to get workers out of an unsafe environment.
Donate to the Socialist Party
Finance appeal
The coronavirus crisis has laid bare the class character of society in numerous ways. It is making clear to many that it is the working class that keeps society running, not the CEOs of major corporations.
The results of austerity have been graphically demonstrated as public services strain to cope with the crisis.
The Socialist Party's material is more vital than ever, so we can continue to report from workers who are fighting for better health and safety measures, against layoffs, for adequate staffing levels, etc.
We must be ready for the stormy events ahead and the need to arm workers' movements with a socialist programme - one which puts the health and needs of humanity before the profits of a few.
Inevitably, during the crisis we have not been able to sell the Socialist and raise funds in the ways we normally would.
We therefore urgently appeal to all our viewers to donate to our Fighting Fund.
---
In The Socialist 27 January 2021:
---
News

Covid spreading, poverty rising, rich get richer, fight for socialism!

Health, Covid and the vaccine: It's a class issue

Poverty wages: When workers can't afford to self-isolate

Fees frozen at £9,250 a year, fight for free education

DVLA Covid outbreak: They only care about output and productivity

Jaguar Land Rover: West Midlands superspreader
---
Schools

Schools: 'We have to fight for everything'

Martin Powell-Davies for NEU DGS: "We need to use our collective strength"
---
What we think

Biden, Labour, and the need for a new mass workers' party
---
Workplace news

Sage care workers strike again: Billionaires refuse to pay up

Unison NEC elections: United left challenge needed to fight slaughter of jobs and services

Steel site scaffolders strike for the 'rate of the job'

Merseyside: DHL workers at Burton's Biscuits strike against half-baked pay deal and bullying bosses

British Gas engineers continue strike against fire-and-rehire plans

Low-paid hospital workers strike
---
NHS

Overwhelmed, underfunded, underpaid, and still fighting for safe PPE

Health worker cooperation in the face of the pandemic
---
Arab Spring

Ten years since the 'Arab Spring'
---
TUSC

TUSC is up and running for May elections

Come to the TUSC local elections conference - 7 February

Why I'm leaving Labour and campaigning for TUSC

Councillors in Surrey resign from Labour and look to stand independently
---
Campaigns

Solidarity meeting with Mohamud Hassan

Save Our Square from New Labour gentrification

Help fund a challenge to austerity at the ballot box - donate today!
---
International socialist news and analysis

Mass protests in Russia against Putin regime
---
Review

TV Review: It's a Sin

TV review: The Hidden Story of Disabled Britain
---
Home | The Socialist 27 January 2021 | Join the Socialist Party
Subscribe | Donate | Audio | PDF | ebook
---