Link to this page: https://www.socialistparty.org.uk/issue/1121/32035
From The Socialist newspaper, 16 February 2021
Sham inquiry into 'progressive extremism' will not stop movements against capitalism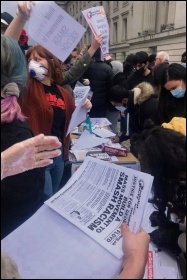 Queues to sign up to the Socialists at a Black Lives Matter protest in Birmingham, 4.6.20, photo Lenny Shail (Click to enlarge)
Nick Hart, Wolverhampton Socialist Party
Shortly after the 2019 general election, former Labour MP John Woodcock was rewarded by Boris Johnson for his public call to vote Tory with a seat in the House of Lords. In this new role, he has now been appointed to lead an inquiry into "progressive extremism".
In his own words, he plans "to look at the way anti-democracy, anti-capitalist, far-left fringe groups... hijack important causes". This reflects the false idea spread by the far right, amplified by sections of the capitalist media, that the Black Lives Matter protests and the school strikes against climate change have been part of some kind of 'Marxist conspiracy'.
Socialist Party members have been proud to take part in these movements. But there's been nothing secretive about the way we've gone about it.
During the Black Lives Matter protests in Wolverhampton and elsewhere last summer, Socialist Party leaflets and posters were enthusiastically received by large numbers of people looking for ideas that can end the systemic oppression of black people.
Rather than looking to 'hijack' the demonstrations, we boldly and unashamedly raised the slogan that "you can't have capitalism without racism". Banishing racism to the dustbin of history once and for all means doing the same to the class society that breeds division and racial inequality.
Worried about socialism
The desperate attempts by the Tories to create a moral panic around growing support for socialism follows on from their proposals to further restrict the right to protest and strike (see 'State forces want more power to crush the protests that are coming').
Taken together, these are clearly conscious moves to try and undermine support for protests, in preparation for further attacks on the working class through yet more cuts and redundancies, as part of their 'recovery' from the Covid crisis.
But this bid to introduce 'red scare' tactics to the UK may backfire. In the US, completely non-socialist, pro-big business politicians, such as Barack Obama and Joe Biden, have long been labelled 'socialists' by their Republican opponents.
This has only driven more workers and young people to seek out the real ideas of genuine socialism and Marxism. A series of opinion polls have shown that around 40% of American adults now have a favourable view of socialism.
The reality is that the inability of capitalism to solve the issues of racism, climate change and economic collapse, in favour of the working-class majority, will continue to give rise to mass movements against these ongoing crises.
The Socialist Party will be fighting alongside those taking part in these protests and campaigns every step of the way. We link up the different issues faced by workers and young people with the need to replace the system over which Lord Woodcock and his ilk preside.
Donate to the Socialist Party
Finance appeal
The coronavirus crisis has laid bare the class character of society in numerous ways. It is making clear to many that it is the working class that keeps society running, not the CEOs of major corporations.
The results of austerity have been graphically demonstrated as public services strain to cope with the crisis.
The Socialist Party's material is more vital than ever, so we can continue to report from workers who are fighting for better health and safety measures, against layoffs, for adequate staffing levels, etc.
We must be ready for the stormy events ahead and the need to arm workers' movements with a socialist programme - one which puts the health and needs of humanity before the profits of a few.
Inevitably, during the crisis we have not been able to sell the Socialist and raise funds in the ways we normally would.
We therefore urgently appeal to all our viewers to donate to our Fighting Fund.
---
In The Socialist 16 February 2021:
---
News

Tory consultation on home-use abortion pills

Tory cladding money will not make us safe

Sham inquiry into 'progressive extremism' will not stop movements against capitalism

Cumbria mine: How can we fight for jobs and stop climate change?

Cryptocurrency bubble: Insanity of capitalism

News in brief
---
NSSN meeting

Online workers' rally: Taking fight to the bosses
---
Scotland

SNP's independence referendum 2 'roadmap'
---
NHS

NHS white paper: no solution to failed Tory policies

Boot private companies out of our NHS
---
Workplace safety

Covid workplace safety

Derby Toyota plant Covid crisis
---
Workplace News

Hackney teaching assistants strike against cruel and unnecessary job cuts

PCS: Reject the HMRC pay deal

Manchester Go North West bus drivers in all-out strike over fire and rehire dispute

London bus drivers set to strike over pay and conditions

Scaffolders' strike continues
---
Socialist Students

Strike back for free education

Socialist Students conference - Sunday 28 February
---
Campaigns

Socialist Party Black and Asian caucus

Remembering Mohamud Hassan - continuing the fight against police brutality

How you can amplify the Socialist's voice - Help us build subscriptions to the Socialist

Swarming the London Mayor's question time

Southern new members meeting - a vivid illustration of the appetite for socialist ideas

Doing all we can to fund the anti-cuts stand at the ballot box
---
Readers' Opinion

Film Review: Dear Comrades!

The Socialist Inbox
---
Home | The Socialist 16 February 2021 | Join the Socialist Party
Subscribe | Donate | Audio | PDF | ebook
---