Social care: Another broken Tory promise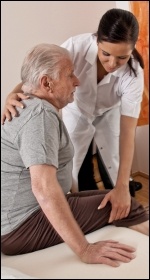 Care workers are some of the most exploited in the country, photo (public domain) (Click to enlarge: opens in new window)
Katie Simpson, care home worker and unison member in Northampton
Since 2010, spending on social care has decreased despite demand increasing. Boris Johnson pledged in 2019 that he would finally come up with a solution to the social care crisis, and ensure that people do not have to sell their homes to pay for their care. This has proved to be another broken promise, with no concrete plans for social care in the Queen's Speech.
An estimated 1.5 million people across the UK are not getting the care they need. Councils are tightening their belts and failing to accurately predict the costs of social care.
Part of the reason for the 'unexpected' increase in social care needs is the fact that many services which helped maintain independence for vulnerable adults have been taken away or privatised – libraries, mental health services, rehabilitation services, housing, jobs and training.
With a surplus of need, private care companies are demanding higher payouts for care packages to take on new clients. At the same time, many care providers are understaffed and offering little to attract new staff.
Privatisation and cuts have ultimately cost us not just monetarily, but in the wellbeing of some of our most vulnerable citizens. Bringing services back in-house and funding them sufficiently is the only real solution to this growing crisis in care. Labour leader Keir Starmer is unlikely to take up this call as his policies move closer to the Tories.
---
Another fire rips through 'Grenfell-style' tower block
Ferdy Lyons, East London Socialist Party
A fire ripped through a 19-storey tower block with 'Grenfell-style' cladding in Canary Wharf on 7 May. Parts of the eighth, ninth and tenth floors of a building in New Providence Wharf were ablaze in the early morning, with the smoke travelling much higher. Many residents at the Ballymore development have claimed that no fire alarms went off, and they were only alerted by screams and shouts in the corridors and knocks on their doors.
Four years after the Grenfell fire tragedy, many high-rise blocks still do not have adequate fire safety measures. If this fire had spread through the cladding, it could have been much worse, and it's only a matter of time before we see another Grenfell.
We need:
All cladding off now and proper fire safety, with the government and the big developers and landlords footing the bill
Immediate rehousing for affected residents
The release and redoing of fire safety assessments, with democratic residents' control over safety
Quality homes for all through a mass programme of council house building
No safety – no rent, no service charges!
---
Tories and Labour won't deliver £100 billion NHS needs
Tom Hunt, NHS nurse and Unison Notts healthcare chair (personal capacity)
As a nurse with over 40 years' experience, I have witnessed the devastating effects of cuts. Pre-pandemic, the NHS was brought to its knees with cuts and financial ruin, in part due to the Private Finance Initiative (PFI) brought in under New Labour and carried on by the Tories.
It is reported that the NHS is underfunded to the tune of £100 billion! It is of little wonder that services become inefficient to the detriment of patients and staff. This is cynically used by the government to argue that services would be much better in private hands.
Locally, I know of one NHS service that pulled out of the tendering process because it was told it would have its budget cut by a third. Surprise, surprise, a private contractor stepped in and won the tender.
How can they run the service with much less money? By supplying a watered-down service and attacking staff terms and conditions. Unions need to step up and organise to demand a fully publicly funded NHS, democratically run by the workers.
---
Agency workers and unions – organising the unorganised
Clive Walder, Birmingham Socialist Party
The letter by the Tyne and Wear Socialist Party members in issue 1132 (see 'I'm in a non-union workplace' at socialistparty.org.uk) raises some important points.
While it is obviously more difficult to recruit agency workers into unions, it is neither impossible, nor illegal. Agency workers have the same legal rights as any other worker to join a union, and be represented by it in disciplinary proceedings.
My union, Communication Workers Union (CWU), has been very successful in recruiting agency workers at its large call centres over a number of years.
While unions should invest much more money and resources into organising agency workers, there are things that workers can do now. Facebook and WhatsApp make it possible to bring groups of workers together in social media to discuss problems in closed groups free from management spying.
When a decent level of agreement and confidence has been reached, collective grievances could be brought to the company. Workers should have a supply of union application forms at hand or a website address to join online.
Another tactic the CWU has used to some effect is to organise offsite meetings, so workers can discuss grievances and agree demands. Organising the unorganised isn't something that can wait.