Link to this page: https://www.socialistparty.org.uk/issue/1139/32697
From The Socialist newspaper, 23 June 2021
Anti-protest bill breaches human rights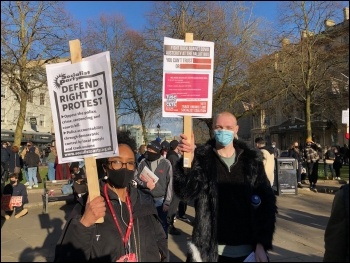 Defending the right to protest, in Bristol, photo Mike Luff
Even Parliament's human rights committee (JCHR) has lambasted the Tories crime and policing bill. Restricting the right to protest will breach human rights laws and criminalise peaceful protesters, it claims.
Giving Home Secretary Priti Patel powers to define 'serious disruption', the JCHR says, is "unacceptable". Clauses such as that allowing protests to be restricted for being too noisy should be scrapped. We say the whole bill should be ditched. It is the Tory government tooling up to crack down on any future opposition to their attacks on workers and young people.
But we can't rely on legal arguments and parliamentary niceties. This government will only listen if we organise mass action. We need to step up the 'kill the bill' protests. And the trade union leaders need to take a lead and mobilise their more than six million members in that fight.
Donate to the Socialist Party
Finance appeal
The coronavirus crisis has laid bare the class character of society in numerous ways. It is making clear to many that it is the working class that keeps society running, not the CEOs of major corporations.
The results of austerity have been graphically demonstrated as public services strain to cope with the crisis.
The Socialist Party's material is more vital than ever, so we can continue to report from workers who are fighting for better health and safety measures, against layoffs, for adequate staffing levels, etc.
We must be ready for the stormy events ahead and the need to arm workers' movements with a socialist programme - one which puts the health and needs of humanity before the profits of a few.
Inevitably, during the crisis we have not been able to sell the Socialist and raise funds in the ways we normally would.
We therefore urgently appeal to all our viewers to donate to our Fighting Fund.
---
In The Socialist 23 June 2021:
---
What we think

Chesham and Amersham by-election
---
NHS

NHS in crisis - 'It's time for action'

Outsourced London hospital workers fight for better pay

Leicester private healthcare tragedy

Exeter Trades Council backs NHS protests
---
News

Northern Ireland and Brexit

Sacking non-vaccinated care workers will not save lives

Furlough reduction risks job losses

Building back better? Fight for a socialist recovery

Anti-protest bill breaches human rights

Tories deliberately underfund childcare
---
Unite election

Unite general secretary contest: Vote for Sharon Graham
---
NSSN conference 2021

NSSN conference 2021: When given a lead workers will fight
---
Women

Women and the criminal 'injustice' system

Tory review won't deliver justice for rape victims
---
International

Iran's presidential election

Are Biden's immigration policies a break with Trump's?
---
Workplace news

Interview with newly elected Unison NEC member and hospital worker

Gateshead: Bosses sack sparks protesting for safety measures

Oaks Park school strike against bully bosses

Leicestershire engineers' fifth week of strikes against fire and rehire

DVLA dispute: Escalation needed

Warehouse workers fight 50% cut in redundancy pay

Carmarthenshire: Fighting for trade union recognition at council-owned company
---
Campaigns

TUSC calls for local 'People's Budget' campaigns

Youth Fight For Jobs: more urgent than ever

London Socialist Party young members' day school

'Socialism is the hope of the world'

Fighting Fund target smashed!
---
Readers' Opinion

Book review: Shuggie Bain

Response to Observer article on China
---
Home | The Socialist 23 June 2021 | Join the Socialist Party
Subscribe | Donate | Audio | PDF | ebook
---