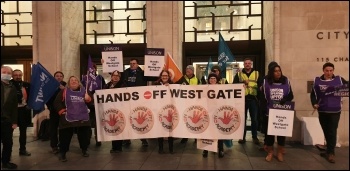 Protesters lobby Leicester council. Photo: Steve Score
Steve Score, Parent and Leicester Socialist Party
Staff at West Gate special school in Leicester, along with their supporters, turned out for a lobby of Leicester City Council on 25 November in protest at planned academisation. The lobby, organised by the National Education Union, Unison and GMB unions, attempted to get clear support from the almost 100% Labour council for their campaign. While we got support from many councillors, some were incredibly reluctant to give their backing.
After an Ofsted inspection in 2018, the school was given an Academy Order, meaning that it would leave local authority control and be run by a less-accountable academy trust. In the meantime, the proposed sponsor withdrew and the school has since been given a 'good' Ofsted grade. Even in the eyes of the inspectors the staff had turned the school around. However, at the time of writing, the Department for Education is still insisting on forcing academisation on the school.
My son Ben attends this school and has made tremendous progress since he got there. But all the hard work of staff is threatened by this attack.
I have proposed that as part of the campaign the unions should involve the families. A start would be to call a meeting to explain what academisation would mean and build a broader campaign.
The experience of the Socialist Party in previous campaigns, both in schools and in saving the Glenfield Children's Heart Centre, for example, proves that, while legal action such as a Judicial Review can be important, a mass campaign is key.