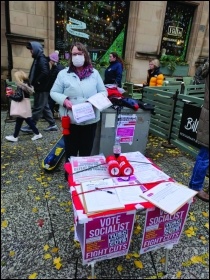 Socialist Party members campaigning at the Nottingham union rally
Nottingham Socialist Party
Nottingham and Mansfield Trades Union Council called a demonstration in Nottingham on 27 November on funding of services and public sector pay.
Union branches from Unison local government and health, Fire Brigades Union (FBU), National Education Union, University and College Union, teachers' NASUWT, civil service union PCS and general unions Unite and GMB supported the demonstration.
Snow, the cold and public transport disruption reduced the attendance, but nevertheless, over 50 people turned out.
A speaker from the Royal College of Nurses talked about the dire situation faced by health workers. She hoped we would understand why they had not come in numbers, but nurses were on their knees and worn out from conditions in the hospitals and maintaining patient care. They also needed to keep themselves safe from Covid in order to keep patients safe. She said that the ballots for industrial action for a 15% pay rise were ongoing, and that health workers would need public support to take action and counter the media barrage against them when they did.
A Royal College of Midwives rep spoke about the marvellous 'March with Midwives' events on 21 November. The turnout had been more than she expected, but could have been so much bigger if the union had asked people to support them.
An FBU rep said that the working class was fighting back in the workplaces, their unions, over climate change, over 'fire and rehire', on jobs and pay, and over cladding, evictions and for decent housing. FBU would support these and other fightbacks.
Jean Thorpe, chair of the Trades Council, said that the latest round of proposed council cuts threatened even more Nottingham City Council including the scapping of the Council Play Service. She called on Labour councillors, who have 50 of 55 seats on the city council, to come out against the cuts and propose an alternative budget.