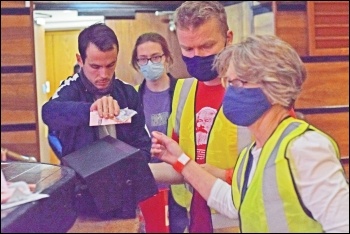 Fighting fund collection at Socialism2021. Photo: Mary Finch
Chris Newby, Socialist Party fighting fund organiser
2021 is set to end on a tremendous note for the Socialist Party. We have already raised just short of £50,000 in the October-December quarter thanks in the main to the fighting fund appeal at Socialism 2021.
The pages of the Socialist are full of different strikes and community campaigns which our members are involved in and support. From 1 to 3 December, we were at universities supporting members of the University and College Union (UCU) on strike with our leaflets and the Socialist newspaper (see page 5).
The Socialist Party is also campaigning in town and city centres on many different issues – from defending the NHS, to fighting for a living wage of at least £15 an hour for all workers, to nationalising the energy companies.
Tories and bosses
As the Tories and the bosses attack workers, working-class struggle is likely to increase. We need to get our socialist message out as widely as possible.
By smashing through the fighting fund target, we will be able to produce far more leaflets and posters for the stormy events of 2022. What can you do to raise extra fighting fund, whether it is planning an extra campaign stall or organising a Christmas meal?
New donations for the Socialism 2021 appeal still continue to come in from those who were unable to attend. More than £10,000 of pledges are yet to be redeemed.
It is vital that unpaid pledges are paid in urgently. The current fighting fund quarter ends on 3 January.