Just some of the events where the Socialist newspaper was sold in the past week…
Boscombe – turning curious pedestrians into new members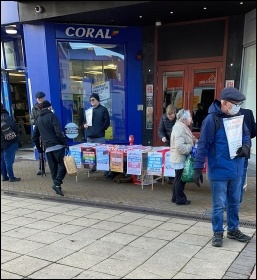 Campainging in Boscombe, Borunemouth Photo: Mike Luff
After a slow response to our Socialist Party campaign stall in Boscombe, in Bournemouth, momentum started to gather. Curious pedestrians became potential new Socialist Party members.
Eight people wrote their information down to find out more. This included a teacher who taught their students about socialism; a legal practitioner; and an individual who was struggling through benefit cuts. The mood was deep anger.
There was also frustration with the Labour Party. People felt that they had no political voice. It is encouraging that people are out there that can join us if we keep up our consistent approach.
Ali Cook
Waltham Cross – workers' victory boosts confidence
A care worker told the whole street to sign our petition for a 15% pay rise in Hertforshire. Initially she said there was no point, because carers never get a rise.
But after we told her about the victory of Sage workers in north London (see socialistparty.org.uk), it boosted her confidence. Then we had a small queue at our stall, including a trainee paramedic. Together people donated over £40 to help our campaigns.
Bea Gardner